District: 04 - Oakland
Contact: Vince Jacala
Phone: (510) 286-5206
Second Phase adds a lane to U.S. 101 from Whipple Avenue to I-380
San Mateo-In early March 2020, Caltrans will begin Phase II of the San Mateo 101 Express Lanes project, which will add an express lane in both directions on U.S. 101 between Interstate 380 (I-380) in San Bruno and Whipple Avenue in Redwood City.
The $512 million project is scheduled for completion in mid-2022.
During Phase I, which began in March 2019, Caltrans modified the freeway median and installed toll system signs between Whipple Avenue and the Santa Clara County line. This section of U.S. 101 is served by carpool lanes, which, by the conclusion of the overall project, will be converted into express lanes and connected to the express lanes being built in the second phase of the project.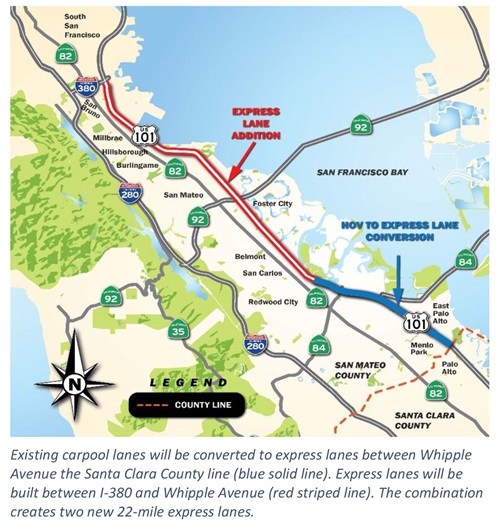 The combination of the newly-built express lanes and the converted carpool lanes will create a new 22-mile express lane in each direction.
The purpose of the express lanes is to move more people - as opposed to more vehicles - through the corridor. Buses and vehicles carrying three or more occupants will travel toll-free in the express lanes, while vehicles carrying less than three occupants will pay a toll. (Two-occupant cars will pay a smaller toll than one-occupant vehicles.)
The toll operator will increase toll prices as the number of vehicles in the express lane increases. During busy times, the higher tolls will discourage other motorists from using the express lane, keeping the lane free from congestion that might be affecting the mixed-flow lanes, especially during commute periods.
New Lane Closure Hours
As with Phase I, Caltrans will implement overnight lane closures five nights of the week: Sunday through Thursday. Unlike Phase 1, Caltrans will begin nightly lane closures an hour earlier at 9:00 PM, rather than 10:00 PM. Also, some lane closures may extend an extra half-hour in the morning from 5:00 AM - 5:30 AM.
While the extended lanes will affect the traveling public to a much greater degree, the extra working hours will shorten the project by nearly six months and save an estimated $40 million.
Smart Traffic System
To reduce congestion and enhance safety, Caltrans will implement a Smart Traffic System during construction. The system alerts motorists to changing traffic conditions via electronic message signs placed in the construction zone. The system can warn motorists about slowdowns even before they are visible.
The Smart System uses pavement sensors to detect the speed and volume of traffic. When the system detects a slowdown, a message is posted to the construction zone signs to warn motorists. The forewarning gives drivers extra time to react, which has been shown to reduce accidents.
Vegetation Removal
In February 2020, Caltrans will remove vegetation, mostly trees, from the project area to clear space for construction. Caltrans will landscape the project area upon completion of the express lanes project.
For more project information or to sign up for e-mail updates, visit the 101 Express Lanes Website.