Yuba 20 Corridor Roadway Projects
Yuba 20 Corridor Roadway Projects
Latest Construction News
Upcoming Lane Closures
August 15 –19
State Route 20 (Browns Valley, Yuba County) between Marysville Road and Timbuctoo Road: Motorists may expect one-traffic control from 6 a.m. to 7 p.m. Monday through Friday for rumble strip installation work.
Looking Ahead: Adding Rumble Strips
Construction crews are scheduled to wrap up final paving work on Saturday, August 13.
Crews will be installing rubble strips the Monday, August 15 through Friday. No Saturday work is anticipated.
Again, a pilot vehicle will be leading motorists during reversing, one-way traffic control. Expect delays of up to 20 minutes. Please be alert for flaggers at each end of the construction zone during traffic control. Motorists are reminded that pilot vehicles are to be followed at all times within the project zone for the safety of construction crews and travelers. Failure to follow pilot vehicles may result in a $220 citation with traffic fines doubled in construction zones.
Caltrans is reminding motorists to "Be Work Zone Alert."
Please let your friends, family members, neighbors, associates and others know they can receive FixYuba20 construction updates emailed to their inbox every week by signing up with Caltrans Public Information Officer Gilbert Mohtes-Chan at
gilbert.mohtes-chan@dot.ca.gov
Unexpected schedule changes may occur. For current information on roadwork, delays, road conditions and emergency closures, call the voice-activated Caltrans Highway Information Network (CHIN) at 1-800-427-7623 (ROAD) or visit Caltrans' QuickMap website.
Photos of the Week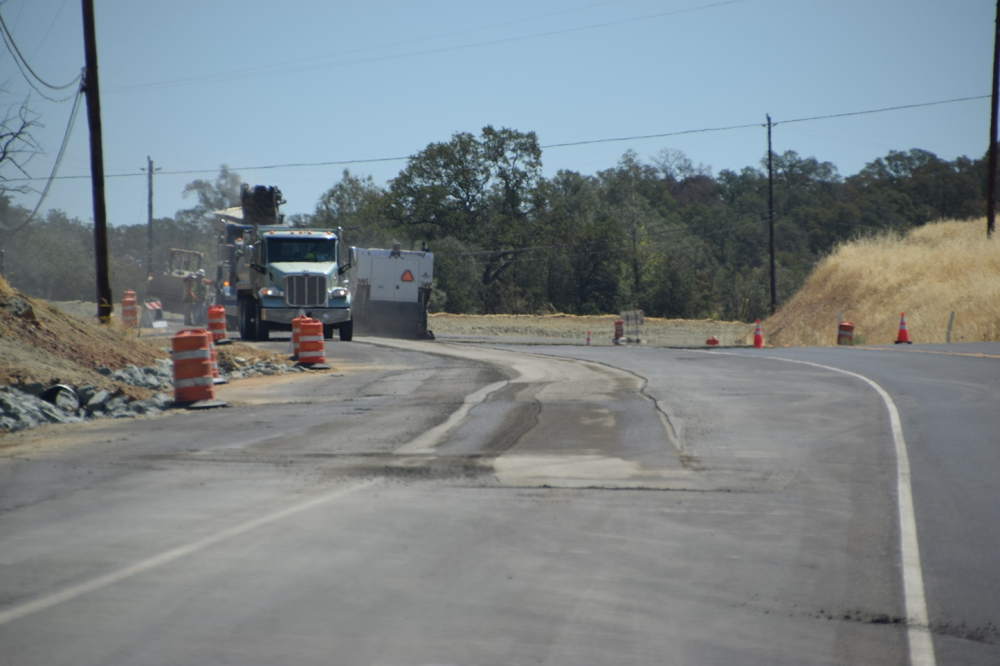 About the Projects
Highway 20 Browns Valley Project
Location
Marysville Road to the Parks Bar Bridge
What We are Doing
Resurface, restore and rehabilitate a 4.5-mile section of roadway
Widen shoulders to a standard 8-foot width
Construct a new Dry Creek Bridge that meets current design standards and has a multi-use pathway
Straighten the curve between Stacy Ann Drive and Sicard Flat Road
Flatten the slope of the roadway between Valhalla Way and Digger Pine Lane
Project Cost
Total cost is estimated at $65.5 million in state and federal funds, including $4.9 million in Senate Bill 1 funds.
Project Schedule
Begin Construction: Spring 2020
Finish Construction: Fall 2022
Highway 20 Timbuctoo
Location
From the Parks Bar Bridge at the Yuba River east of Smartsville Road
What We Are Doing
Upgrade a two-mile section of roadway
Straighten curves on a section of the highway
Widen segments of highway to create uniform 12-foot wide lanes
Widen shoulders to a standard 8-foot width
Construct a new bridge on the realigned section of highway
Increase sight distances for motorists traveling on the highway
Project Cost
Total cost is estimated at $55.4 million in state and federal funds.
Project Schedule
Begin Construction: Spring 2020
Finish Construction: 2023
Highway 20 Loma Rica Project
Location
Loma Rica Road to Spring Valley Road
What We Are Doing
Rebuild 4.4 lane miles of highway
Widen shoulders to 8 feet
Install centerline rumble strips
Extend, replace and upsize culverts
Provide a 20-foot clear recovery zone
Flatten roadway humps to provide adequate sight distance
Project Cost
Total cost is estimated at $16.8 million in federal and state funds, including funding from Senate Bill 1, the Road Repair and Accountability Act of 2017
Project Schedule
Begin Construction: Spring 2019
Project Completed
Project Contacts
Johny Tan Project Manager
(916) 396-9494
Johny.Tan@dot.ca.gov
Gilbert Mohtes-Chan Public Information Officer
(530) 682-6145
Gilbert.Mohtes-Chan@dot.ca.gov