State Route 70-99 Comprehensive Multimodal Corridor Plan
State Route 70-99 Comprehensive Multimodal Corridor Plan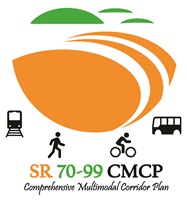 What is a Comprehensive Multimodal Corridor Plan?
The State Route 70-99 Comprehensive Multimodal Corridor Plan (SR 70-99 CMCP) is based on the California Transportation Commission's 2018 Comprehensive Multimodal Corridor Plan Guidelines. This guidance emphasizes a planning approach that strives to achieve a balanced transportation system.
The SR 70-99 CMCP will align with the following priorities:
Include local, regional and state agencies in the corridor planning process
Balance infrastructure, livability, economic and sustainability
Provide multimodal, multidisciplinary corridor-based planning
This effort will develop a comprehensive multimodal corridor plan and concept of operations addressing regional and interregional safety, congestion, accessibility, goods movement, economic development, land use efficiency, public health, air quality, and greenhouse gas emissions for State Routes 70, 99 and 149 (SR 70, SR 99, SR 149) in Butte, Sacramento, Sutter and Yuba counties. The final product will be developed in collaboration with local agency partners and stakeholders. The plan will provide a range of proposed concepts, evaluate and prioritize improvements within the study limits, and set a solid framework for implementing short- and long-term capital improvements supporting the Road Repair and Accountability Act of 2017 (SB 1) goals and priorities.

SR 70-99 CMCP Corridor Limits Map

Accessibility Assistance: Caltrans makes every attempt to ensure our documents are accessible. Due to variances between assistive technologies, there may be portions of this document which are not accessible. Where documents cannot be made accessible, we are committed to providing alternative access to the content. Should you need additional assistance, please contact us at (530) 812-4414 or visit Request ADA compliant Documents.
SR 70-99 CMCP Virtual Open House Video
Get Involved
Take the Survey
We thank the public for helping with the development of the SR 70-99 CMCP because your opinions and needs matter. The survey closed on September 30, 2021. Thank you again for your participation.
Caltrans Seeks Community Feedback on Proposed SR 70-99 CMCP Projects. Comment period closed on February 15, 2022. Thank you again for your participation.
Corridor Planning Partners
Caltrans began reaching out to local, state, and federal partners in 2020 to initiate the development of the CMCP, which includes the following entities:
Butte County Association of Governments
Sacramento Area Council of Governments
Butte County
Sacramento County
Sutter County
Yuba County
B-Line Transit
Yuba-Sutter Transit
City of Biggs
City of Chico
City of Gridley
City of Live Oak
City of Marysville
City of Oroville
Town of Paradise
City of Sacramento
City of Yuba City
California Highway Patrol
CalFire
California State Parks
Tribal Representatives
Contact
Dianira Soto, Planning Corridor Manager, Caltrans District 3, Planning, Local Assistance & Sustainability