Sacramento Connector Ramps Metering Project
Sacramento Connector Ramps Metering Project
| Project ID | EA | District | County | Route | Funding Program |
| --- | --- | --- | --- | --- | --- |
| 0317000009 | 1H850 | 03 | Sacramento | VAR | 201.315 |
PROJECT DESCRIPTION:
This project proposes to install Freeway to Freeway Connector Meters or Closed Circuits Television (CCTV), at the following locations:
PM 46.6 Eastbound Route 160 to Northbound Route 51 (CCTV)
PM 29.6 Southbound Route 99 to Southbound Interstate-5 (Modified to Location 5)
PM 32.5 Southbound I-5 to Northbound Route 99 (Connector Metering)
PM 30.2 Southbound Route 99 to Northbound I-5 (Connector Metering)
PM 32.4 Southbound Route 99 (CCTV)
This project is identified as a Category 5 as defined in Chapter 8, Section 5 of the Project Development Procedures Manual (PDPM). The proposed improvement will not require new right of way or increase traffic capacity.
PROJECT LOCATION MAP: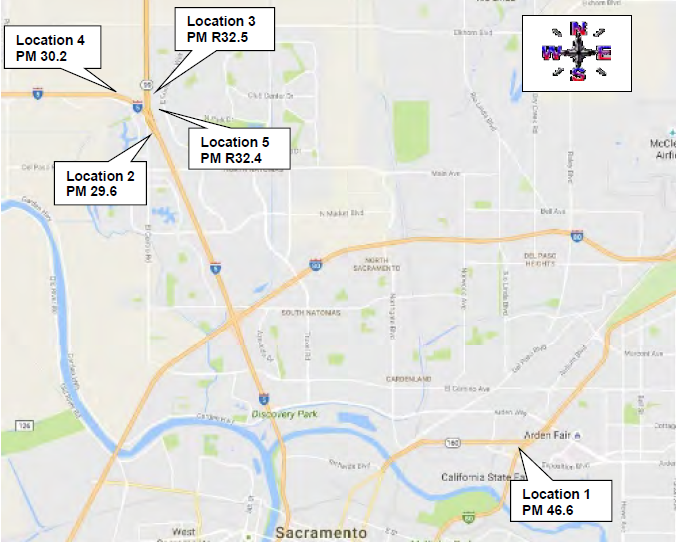 PURPOSE AND NEED:
Purpose:
The purpose of this project is to relieve traffic congestion related collisions, reduce vehicle delays, monitor live traffic, manage and verify incidents, and increase emergency response time.
Need:
Travel demand has exceeded the capacity of freeway facilities in most of the Sacramento region. Traffic congestion, degrading performance, and vehicle delays have steadily worsened with the region's growing population. Freeway to Freeway Connector Meter systems and CCTVs are needed to help manage these problems, improve traffic flow, and speed up emergency response time.
FUNDING:
The Project Approval and Environmental Document (PA&ED) support component was programmed at the October 2017 CTC meeting from the State Highway Operation and Protection Program (SHOPP). Design, Right of Way and Construction components are funded from California SB1's Roadway Maintenance and Rehabilitation Program.
COST ESTIMATE:
| | | |
| --- | --- | --- |
| Support Cost | $2,020,000 | $2,252,000 |
| Capital Cost | $3,020,000 | $3,837,000 |
| Total Project Cost | $5,040,000 | $6,089,000 |
SCHEDULE:
| Milestone | Date | Progress |
| --- | --- | --- |
| Project Approval & Environmental Document | 03/25/2020 | Complete |
| Design Plans Specifications & Estimate | 03/11/2021 | Complete |
| Advertise Project | 06/23/2021 | Complete |
| Contract Accept | 08/10/2021 | Complete |
| Complete Construction M60 | 08/30/2022 | |
PROJECT CONTACTS:
Nawid Nessar, Project Manager, (530) 741-5750; Nawid.Nessar@dot.ca.gov
Dennis Keaton, Public Information Officer, (916) 825-5252; dennis.keaton@dot.ca.gov