I-80 Truckee Rehabilitation & Auxiliary Lane
I-80 Truckee Rehabilitation & Auxiliary Lane
Project Description:
Caltrans proposes to conduct pavement rehabilitation of the existing Portland cement concrete (PCC) pavement on Interstate 80 (I-80) in Nevada County between Donner Pass Road (Exit 184, post mile 13.0) and the I-80/State Route 89/State Route 267 interchange (post mile 16.5).
The scope of the proposed project includes: grinding existing pavement and inlay ruts with polyester concrete, repairing and replacing jointed plain concrete pavement (JPCP), adding new concrete side gutters along the outside shoulders of the West Truckee westbound on-ramp and the eastbound off-ramp, rehabilitating drainage culverts in poor condition, and upgrading existing traffic monitoring station (TMS) elements to current standards along this segment. Work also includes removing and replacing the damaged concrete walkways and replacing non-Americans with Disabilities Act (ADA) ramps at the State Route 89/Interstate 80 interchange, the West Truckee eastbound of-ramp and the westbound on-ramp. The scope also includes the addition of westbound Auxiliary lanes from the State Route 89 on-ramp to Donner Pass Road off-ramp and from the 80/267/89 on-ramp to the Route 80/267/89 separation. Acceleration Lanes are also included in the eastbound direction at the Donner Park Overcrossing on-ramp and State Route 89 on-ramp.
Map: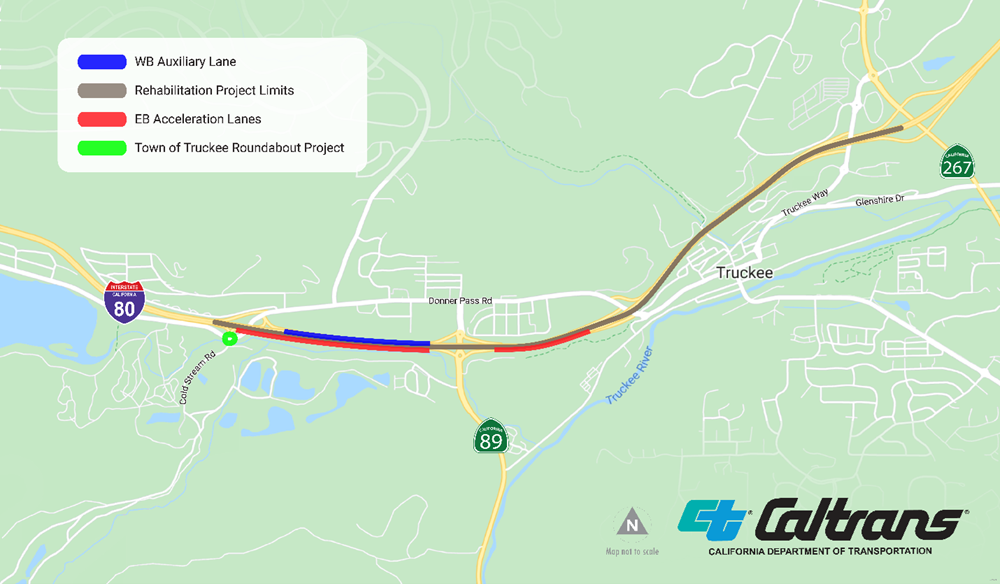 Need:
The #2 lane in the eastbound (EB) direction and the #3 lane in the westbound (WB) direction show moderate to severe rutting along the wheel path due to chain wear from heavy truck traffic and snow removal equipment. Existing drainage culverts that are in poor condition and that have reached the end of their service life will be replaced.
There is also the combination of slow-moving trucks and higher speed vehicular traffic on this segment of I-80 which cause merge conflicts and collisions when local/regional traffic attempt to merge onto I-80 from ramps on inclines with short merges.
All non-ADA compliant curb ramps at the on/off-ramps at the Route 89/80 interchange, and the West Truckee Road/Interstate 80 interchange will be replaced. Damaged sidewalk between the two roundabouts at the Route 89/Interstate 80 interchange will also be replaced.
Cost Estimate:
Support: $6.3 million
Capital: $24.3 million
Total Project Cost: $30.6 million*
*Includes $2.4 million in Senate Bill 1 funds.
Schedule:
| | |
| --- | --- |
| Project Approval & Environmental Document | February 2021 |
| Design Complete | April 2021 |
| Advertise Project | August 2021 |
| Begin Construction | May 2022 |
| Complete Construction | November 2022 |
News / Events
Press Releases:
07.20.2023 State Route 89/Interstate 80 Ramp Closure in Truckee
11.3.22 Intermittent Interstate 80 Lane Closures Continue in Truckee
10.10.22 Central Truckee I-80 Ramp Closure Extended for Ongoing Construction
09.22.22 Central Truckee Ramp Closure Extended for Construction Work
08.25.22 Intermittent Ramp Closures Continue for I-80 Truckee Rehabilitation Project
08.19.22 Intermittent Ramp Closures Ahead for I-80 Truckee Rehabilitation Project
08.11.22 Extended Closure of SR-89 Eastbound On-ramp in Truckee Beginning
08.05.22 Interstate 80 Travel Delays Through Truckee Anticipated
07.28.22 Improvements Continue for I-80 Truckee Rehabilitation Project
07.14.22 Lane and Ramp Closures Continue for Roadway Projects in Truckee
07.08.22 Lane and Ramp Closures Ahead for Improvement Projects in Truckee
06.24.22 Intermittent Interstate 80 Ramp Closures Scheduled in Truckee
06.10.22 Lane Reductions Continuing for I-80 Rehabilitation Project in Truckee
05.19.22 Lane Reductions Ahead for I-80 Rehabilitation Project in Truckee
05.13.22 Travel Delays Expected on I-80 in Truckee for Construction Project
Project Contacts:
Jeremy Linder, Public Information Officer
(530) 701-5209
jeremy.linder@dot.ca.gov
Berhane Tesfagabr, Project Manager
(530) 869-7335
berhane.tesfagabr@dot.ca.gov