District: District 3 - Marysville
Contact: Raquel Borrayo
Phone: (530) 701-5209
FOR IMMEDIATE RELEASE
Truckee – Caltrans is alerting Interstate 80 (I-80) motorists in Truckee to expect a continued closure of the Central Truckee eastbound off-ramp for ongoing construction.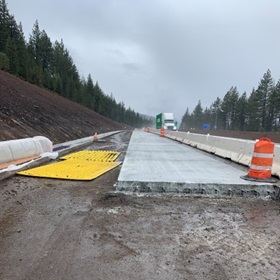 Originally scheduled to reopen on Friday, September 23, the closure of the I-80 eastbound off-ramp at Central Truckee (Exit 186) has now been extended through 5 p.m. Monday, October 17. Ongoing ramp construction activities include sign structure installation, paving and drainage work.
Intermittent I-80 lane and ramp closures also continue through October between the I-80/State Route 89 (SR-89)/SR-267 separation and Donner Pass Road/Coldstream Road (Exit 184) for striping, electrical and grinding work.
Motorists are reminded to expect travel delays on I-80 through November for construction. Typical delays of 15 to 20 minutes should be anticipated when traveling through the work zones on weekdays. However, delays of 25 to 30 minutes are common on Thursday afternoons due to increased travel levels. Caltrans makes every effort to reduce weekend travel congestion by keeping interstate lanes open.
The construction is part of a $30.6 million project to rehabilitate the existing concrete on I-80 in Truckee, install a westbound auxiliary lane from the SR-89 south on-ramp to the Donner Pass Road off-ramp, install eastbound acceleration lanes from the Donner Pass Road on-ramp and the SR-89 south on-ramp, improve drainage, and upgrade concrete walkways along ramps to meet current Americans with Disabilities Act (ADA) standards.
Teichert Construction of Rocklin is the prime contractor for the project, which is scheduled to be completed later this fall. The construction schedule is subject to change based on weather, equipment or material availability, or other unexpected events.
The department will issue construction updates on Twitter @CaltransDist3, on Facebook at CaltransDistrict3 and on the Caltrans District 3 website. For real-time traffic, click on Caltrans' Quickmap or download the QuickMap app from the App Store or Google Play.