I-80 Rockfall Protection
I-80 Rockfall Protection
Project Description:
Caltrans is proposing to stabilize the cut slope along Interstate 80 westbound to prevent rock fall onto the interstate. The existing cut slope has continued to erode, with materials falling onto the shoulder and into the traveled way. The proposed improvements are located at three separate locations just west of the California-Nevada state line in Nevada and Sierra County. This project will include flattening existing slope, installing drapery system, constructing a concrete barrier, and constructing concrete valley gutter.
Project Map: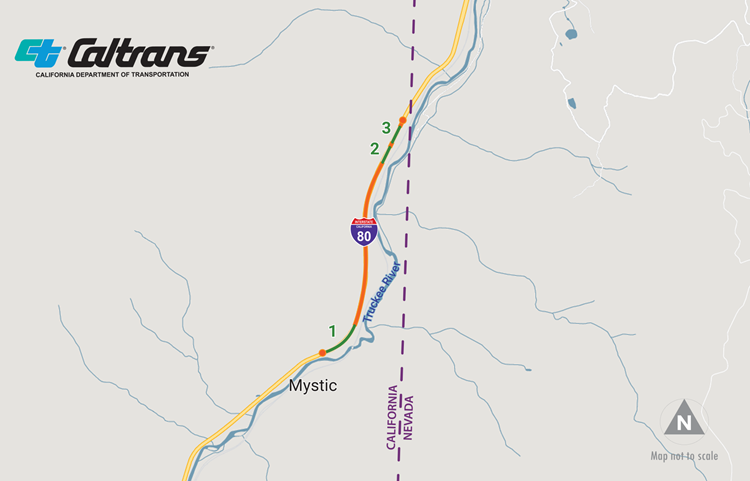 Need:
This project is needed to reduce rock fall from the cut slopes at both project locations, which enter the roadway and require mitigation by maintenance workers. Materials that fall along the slope need to be controlled and captured to prevent them from encroaching onto the highway and to minimize maintenance operations.
Funding:
The proposed roadway protective betterments project is funded from the 2018 SHOPP (Fund 20.XX.201.150).
Cost Estimate:
| | |
| --- | --- |
| Support Cost | $4.7 million |
| Capital Cost | $7.9 million |
| Total Project Cost | $12.6 million |
Schedule:
| | |
| --- | --- |
| Project Approval & Environmental Document | Fall 2019 |
| Design Completed | Spring 2021 |
| Advertise Project | Fall 2021 |
| Begin Construction Summer | Summer 2022 |
| Complete Construction | Fall 2022 |
News / Events
Press Releases:
10.04.22 Rolling Traffic Breaks on I-80 Continuing Near the California-Nevada Border
09.07.22 Rolling Traffic Breaks on I-80 Continuing for Slope Work West of the California-Nevada Border
08.25.22 Rolling Traffic Breaks on I-80 Continuing Next Week for Slope Work near California-Nevada Border
07.22.22 SCHEDULE UPDATE: Rockfall Protection Project Starting on I-80 Westbound Near California-Nevada Border
07.14.22 Rockfall Protection Project Starting on I-80 Westbound Near California-Nevada Border
08.04.2022 Rolling Traffic Breaks on I-80 Beginning Next Week for Slope Work near California-Nevada Border
Project Contacts:
Daniel Cuellar, Project Manager, (530) 812-5610 daniel.cuellar@dot.ca.gov
Raquel Borrayo, Public Information Officer, (530) 701-5209; raquel.borrayo@dot.ca.gov