District 3 Clean California
District 3 Clean California
Envisioning What's Possible
Trash has plagued California's streets and highways for decades. Clean California proposes significant investments in litter collection, community engagement and education to ultimately transform unsightly roadsides into spaces of pride for all Californians. This is truly a statewide effort with potential projects in all 58 counties and with a third of the funds going directly to cities, counties, tribes and transit agencies to clean local streets and public spaces.
For more information about Clean California, including California's Adopt-A-Highway program, local grant programs, and career opportunities, or to submit a Customer Service Request (CSR) form to report litter, graffiti or maintenance issues, please visit https://cleancalifornia.dot.ca.gov/.
Program Impact

Create career opportunities and jobs for veterans, students, artists, people experiencing homelessness, and also for those re-entering society from incarceration
Significantly reduce litter along state highways, local roads, tribal land, parks, pathways and transit centers

Beautify our state's transportation network through art and litter clean-up projects in underserved, rural and urban communities throughout the state
District 3 Clean California Calendar of Events
Our district is currently hosting free monthly Dump Day events throughout our 11 counties. Dump Day events are organized to further Caltrans' goal of keeping California highways litter-free as part of the Clean California Initiative. Please note: events may be rescheduled or cancelled due to maintenance needs, including winter operations, or may close early due to capacity restraints. Click on the individual events below for additional information.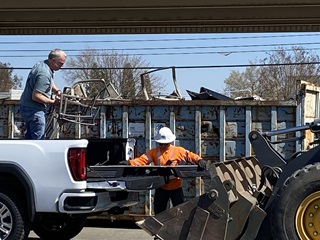 Saturday, April 22, 2023
Time: 7 a.m. to 2 p.m. or until capacity is reached
Location: 737 N Seventh Street, Williams, CA 95987
Further information forthcoming

Saturday, May 13, 2023
Time: 8 a.m. to 2 p.m. or until capacity is reached
Location: 2243 Cornelian Drive, South Lake Tahoe, CA 96150
Further information forthcoming
Saturday, June 17, 2023
Time: 7 a.m. to 12 p.m. or until capacity is reached
Location: 1001 N. Beale Road, Linda, CA 95901
Further information forthcoming
Adopt-A-Highway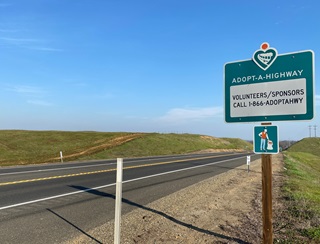 The Caltrans Adopt-A-Highway Program provides an avenue for individuals, organizations, or businesses to help maintain sections of roadside within California's State Highway System. Groups have the option to participate as volunteers or to hire a maintenance service provider to perform the work on their behalf. Participation can include one or more of the following activities: Removing litter, planting and establishing trees or wildflowers, removing graffiti, and controlling vegetation. For more information about the program, including our new volunteer stipend program, please visit https://cleancalifornia.dot.ca.gov/aah or call (866) 236-7824.
District 3 Clean California Beautification & Safety Improvement Projects
District 3 will complete seven Clean California beautification and safety projects before the end of 2023. Please click on the project name to view its fact sheet. For information about other statewide Clean California beautification and safety projects, please visit: https://cleancalifornia.dot.ca.gov/projects.
District 3 Project Portfolio
Project Title
County
Route
Description of Work
South Sacramento Beautification and Safety Connections Phase I
Sacramento
99
Remove and/or install slope paving and paint bridges. Install mulch and inert materials.

South Central Sacramento Beautification and Safety Connections Phase II

Sacramento
99
Install aesthetic fencing and art on bridge structures and pedestrian overcrossing structures.
Oroville Beautification and Safety
Butte
70
Install art, inert materials, and slope paving.
Marysville Beautification and Safety
Yuba
70
Paint bridge structures, install decorative gore paving at ramps, install sidewalks, mulch, and inert materials, and add pedestrian lighting under bridge structures.
Orland Clean CA
Glenn
5
Place inert material such as rock, gravel, or recycled glass at areas where there is no vegetation. Install artwork, slope paving and paving at narrow areas with enhanced beautification details at bridges.
Sacramento West Beautification and Safety
Sacramento
5, 51
Install inert materials, metal art, aesthetic fencing, and artistic painting on retaining walls.
Chico Beautification and Safety
Butte
99
Install artwork and aesthetic slope paving.
District 3 Clean California Local Grant Award Projects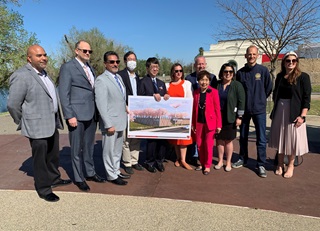 District 3 will facilitate the funding for nine Clean California Local Grant Projects scheduled for completion in 2024. For more information about these and other Clean California Local Grants statewide, please visit https://cleancalifornia.dot.ca.gov/local-grants.
District 3 Local Grant Awards
Agency Name
Project Title
Grant Amount
Total Project Cost
Project Description
City of Sacramento
Florin Road Community Beautification Project
$1,122,173
$1,122,173
This project is a public outreach campaign, youth engagement, and beautification effort to improve an area along Florin Road from Tamoshanter Way through Franklin Boulevard. The project will coordinate with Sojourner Truth African Heritage Museum, Luther Burbank High School, the Florin Road Partnership, local nonprofits, and businesses to address litter and illegal dumping hot spots. The project will create public spaces for showcasing the culture and diversity of the Meadowview community with banners, murals, interactive structures, landscaping, and museum signage, and public seating. High school interns will conduct litter source assessments, adopt litter hot spots, and be involved in designing litter abatement solutions.
City of Sacramento
Dixienanne Neighborhood Clean & Green Alleys Project
$4,858,267
$4,861,767
This project will transform unpaved residential alleys strewn with illegal dumping and abandoned vehicles in one of Sacramento's most disadvantaged neighborhoods. Community cleanup events will be organized to clear debris and unimproved alleys will be paved with permeable interlocking pavers to reduce runoff to provide a clean and inviting surface for playing, walking, and biking. Fencing will be repaired and gates installed to quell illegal activity will be removed or replaced with pedestrian friendly bollards. The Sacramento Tree Foundation will plant up to 20 trees along the alleys to provide shade, cool the pavement, and improve air quality. Local artists will be commissioned to enhance the paver installations.
City of Sacramento
21st Avenue Beautification Project
$1,758,178
$1,758,178
This project will address the segment of Sacramento's 21st Avenue from the underpass at SR-99 across Franklin Boulevard to Ethel Phillips Elementary School. The project will create a widened ADA-compliant sidewalk and plant trees to shade students walking to and from the school. The project will replace dirt ditches that accumulate garbage with curb, gutter, bioswales, and vegetation. To beautify the route between the neighborhoods, the project will add artistic bus shelters, waste containers, lighting, and cultural murals by local artists on buildings along 21st Avenue and hold community events that help educate the public on littering and proper waste disposal.
City of Sacramento
Del Rio Trail
$5,000,000
$16,706,000
This project provides a new class one bike path along 5 miles of an abandoned railroad line through existing neighborhoods. Active users will benefit by having new bicycle and walking connectivity to regional parks, area schools, markets, and other activity centers. The project will install 10 public art works and remove debris from the abandoned railroad corridor. The project will also plant 700 trees throughout its 62-acre area.
City of Sacramento
The Hanami Line at Robert T. Matsui Park Project
$3,202,221
$4,318,202
This project provides renovation and beautification for an existing park along the Sacramento waterfront. Improvements include the addition of blossoming cherry trees, native grasses and plants and state-of-the-art irrigation and lighting. It will also provide an iconic art sculpture, a beautiful promenade, increased seating for festivals, a programming area for events, permanent shade structures, and decorative railing. Imported topsoil will elevate the west side of the park for better views of the Sacramento River. A partnership between the Sacramento Tree Foundation, the City of Sacramento, and MOSAC (Museum of Science and Curiosity) will ensure the long-term health and maintenance of the trees, the plant materials, the hardscape and all park amenities.
Southgate
Recreation &
Park District
South Sacramento
Parks & Pathways Beautification & Revitalization Project
$5,000,000
$5,001,512
This project is an impacting investment in a historically disadvantaged community and includes elements to restore five parks, the Florin Creek pathway, and creek cleanup and volunteer tree planting events along the Highway 99 corridor. The project will reduce waste by activating these public spaces, creating unique designs that divert waste, and leading clean-up efforts. Enhanced public health and cultural connections will be created through new and improved walking and recreational amenities desired by the community. New art, fencing, drought tolerant plantings, and trees will dramatically beautify these public spaces and mitigate the intense Sacramento heat.

City of
Yuba City

Plumas Street Historic and Water Tower Park Improvements Project
$2,235,888
$2,235,888

This project will help transform, beautify, and connect the Plumas Street Historic District with other improvements already completed nearby to create a cohesive downtown area enhancing civic pride and drawing businesses and visitors to this shopping and recreation district. Project elements include: 1) Water Tower improvements (including lead and rust remediation and painting); 2) Water Tower Park improvements (including a shade structure and public art); 3) Plumas Street (litter/graffiti clean-up and placemaking gateway arch); 4) Center Street (LED lighting and trash/recycling bins); and 5) A "Clean and Safe Yuba City" litter abatement campaign, including social media messaging, light pole banners along Bridge Street, and cleanup events.

Colusa Indian Community Council
Ummi's Pathway
$4,187,830
$4,187,830
This project will rehabilitate and create a safe 3/4-mile recreational path through tribal land for the betterment of indigenous people and the surrounding communities. The durable path will be comprised of culturally unique aesthetics and native plants designed to last generations. The pathway will connect many vital communal spaces, from the tribal-owned mini mart to the childcare facility and from the private residential reservation to the education center and medical center, with seating, energy conserving lighting and waste receptacles. The entire project will encompass elements that are approved by the native tribe to engage its people with the land while beautifying this space that is accessible to the public.
County of Glenn
Glenn County Parks Accessibility and Beautification Project
$4,480,790
$4,480,790

The Glenn County Parks Accessibility and Beautification Project will improve three parks in underserved communities in Glenn County: 1. Walker Creek - Parking, travel paths, concrete pads, picnic tables, waste/recycle receptacles and signage will be upgraded/added to remove architectural barriers and achieve full ADA compliance and provide better waste/recycle options while achieving beautification. 2. Orland Memorial Hall - travel paths, concrete pads, picnic tables, waste/recycle receptacles and signage will be upgraded/added to remove architectural barriers and achieve full ADA compliance and provide better waste/recycle options while achieving beautification. Grass and sprinklers will be removed in certain areas and replaced with drought resistant native plants. A large veteran memorial statue will be added. 3. Willows Memorial Park- travel paths with lights, concrete pads, picnic tables, waste/recycle receptacles and signage will be upgraded/added to remove architectural barriers and achieve full ADA compliance and provide better waste/recycle options while achieving beautification. A large fenced ADA playground area will be added.
Contact Information
For more information about Clean California projects and programs in District 3, please contact Kevin Murphy, Public Information Officer – (530) 812-7282 or kevin.murphy@dot.ca.gov.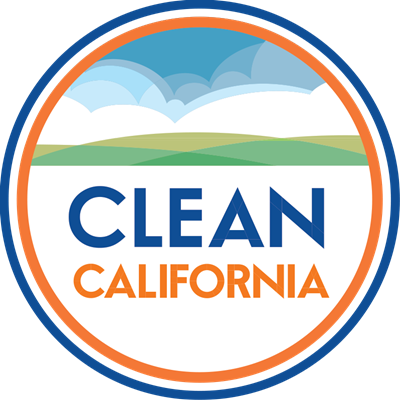 Key Action Areas
1. Engage & Invest In Communities
Create jobs and support local artists while cleaning and beautifying local roads through community grants.
2. Education
Drive a cultural shift of shared responsibility for the cleanliness of our roadways through litter prevention education campaigns that focus on properly throwing away trash and the impact littering has on natural resources, waterways, public safety and health.
3. Expand Litter Pick-Up
Significantly reduce trash from state highways and local roads by strengthening trash collection by Caltrans, community service programs and local volunteers. Increase access to waste facilities and provide free monthly disposal sites throughout the state.
4. Enhance Infrastructure
Implement sustainable beautification projects that improve safety and transform dividing highways into spaces that unify communities.