District: District 3 - Marysville
Contact: Steve Nelson
Phone: (530) 701-9459
FOR IMMEDIATE RELEASE
Caltrans and its partners at El Dorado County and the El Dorado County Transportation Commission are providing the following update on the $55.4 million U.S. Highway 50 Camino Safety Project.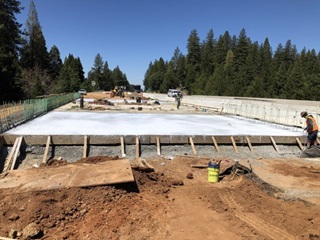 This safety project consists of installing a continuous 56-inch-high concrete median barrier on a three-mile stretch of Highway 50 from Still Meadows Road to upper Carson Road that will restrict left turns at all at-grade intersections and building a new undercrossing that will provide access north and south of the highway.
Collision rates along this segment of US 50 are higher than the statewide average. The median barrier will reduce the amount of collisions through the corridor and a wildlife undercrossing that was constructed as part of the project last September also is anticipated to improve motorist safety.
After completing work replacing two El Dorado Irrigation District water lines, construction continues on county road improvements, including an extension of Sierra Blanca Road to a roundabout that will connect to the new Pondorado Road Undercrossing. The roundabout is scheduled to be open by mid-September. El Dorado County has provided $7.3 million in funding for local road improvements.
Work on Highway 50 is ongoing to construct remaining areas of the median barrier, implement drainage improvements and pave the approaches to the undercrossing. The new bridge is expected to be open to traffic in the next three to four weeks. Repaving Highway 50, and regrading and paving Carson Road and Carson Court is anticipated to start in July.
Construction on the project started in July 2020 and all work is anticipated to be complete by December 2022. Weather, equipment availability or other unexpected events may delay or prolong work.
District 3 is responsible for maintaining and operating 4,385 lane miles in 11 Sacramento Valley and Northern Sierra counties. Check out Caltrans' QuickMap for current road conditions and chain requirements or download the free QuickMap app on the App Store or Google Play. Motorists also can call the California Highway Information Network automated phone service at 1-800-427-ROAD (7623).