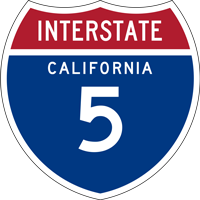 District: District 3 - Marysville
Contact: Dennis Keaton
Phone: (530) 741-5474; (916) 825-5252
FOR IMMEDIATE RELEASE
CITY OF SACRAMENTO – Caltrans is advising motorists to expect city surface street restrictions on Karbet Way due to construction related work beginning this week.
A contractor is scheduled to begin excavation work for the new Casilada Pedestrian Overcrossing (POC) near Karbet Way. For safety to workers, pedestrians and motorists a long-term, around the clock lane closure with a signed detour will be in place beginning Thursday, September 26 at 8:30 a.m.
Caltrans reminds motorists that this is a residential area on a city surface street. The speed limit is 25 mph.
CLOSURE:
Karbet Way between Casilada Way and 28th Avenue.
DETOUR:
Northbound motorists on Karbet Wy. take Casilda Wy. to Elmer Wy. and to 28th or 27th Ave. back to Karbet.

Southbound motorists on Karbet Wy. take 27th or 28th Ave. to Elmer Wy. to Casilada Wy. back to Karbet.
Daytime work will comply with the City of Sacramento's noise ordinance. Road closed signs and type three barricades will be used to block automotive traffic, except for local resident traffic. Pedestrians and driveway traffic will continue to have access in and out of the work zone.
The work is part of the $370 million project to rehabilitate 67 lane miles of roadway and build 23 miles of carpool lanes, add additional sound walls and improve the existing electrical and drainage. $48.3 million is from SB 1 funding.
Caltrans urges motorists to plan ahead for additional travel time. The California Highway Patrol will be at the work sites for traffic enforcement.
More information on this project can be located here.
Weather or unexpected events may delay or prolong the work. Caltrans advises motorists to "Be Work Zone Alert." The department will issue construction updates on Twitter @CaltransDist3 and on Facebook at CaltransDistrict3. For real-time traffic, click on QuickMap or download the QuickMap app from the App Store or Google Play.
##