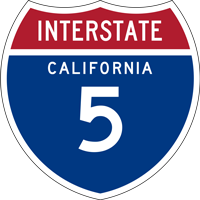 District: District 3 - Marysville
Contact: Dennis Keaton
Phone: (530) 741-5474; (916) 825-5252
Sacramento – Caltrans is advising motorists to expect continued nightly work along parts of Interstate 5 from north of Elk Grove to the U.S. Highway 50 interchange and to south of the American River.
A contractor is scheduled for ongoing roadway excavation and slab replacement work. For safety to workers and motorists nightly lane restrictions and alternating ramp closures will be in place Monday through Friday from 9 p.m. to 6 a.m.
Daytime work is ongoing, but will be non-traffic interfering. New lane shifts with temporary striping and k-rail have been put in place at select locations in preparation for structure work along I-5.
New lane shift and k-rail Locations on northbound and southbound I-5:
Just north of Laguna Bl.
Just south of Pocket Rd.
Casilada Pedestrian Overcrossing (POC) north of Seamas Ave.
I-5 and U.S. 50 Junction
I Street to Richards Bl.
The work is part of the $370 million project to rehabilitate 67 lane miles of roadway and build 23 miles of carpool lanes, add additional sound walls and improve the existing electrical and drainage. $48.3 million is from SB 1 funding.
Caltrans urges motorists to plan ahead for additional travel time. The California Highway Patrol will be at the work sites for traffic enforcement.
More information on this project can be located here.
Weather or unexpected events may delay or prolong the work. Caltrans advises motorists to "Be Work Zone Alert." The department will issue construction updates on Twitter @CaltransDist3 and on Facebook at CaltransDistrict3. For real-time traffic, click on QuickMap or download the QuickMap app from the App Store or Google Play.