State Route 70 Permanent Restoration in Plumas County
State Route 70 Permanent Restoration in Plumas County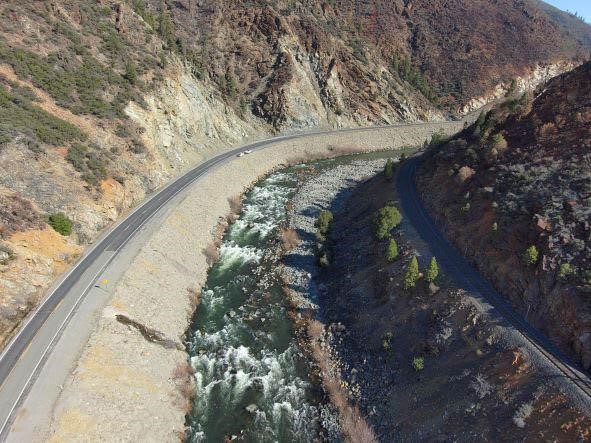 The Project:
The Plumas 70 Permanent Restoration project will provide for the permanent restoration of roadway slope scour in response to the 2017 qualifying storm event that resulted in storm damage along the Route 70 Feather River corridor.
Project Benefits:
This project will benefit motorists traveling through that stretch of Route 70 by stabilizing and strengthening the roadway against future storm events and providing more effective drainage solutions.
Project Includes:
A combination of grouted Rock Slope Protection (RSP) clusters at seven locations and a soldier pile "Tie-Back Retaining Wall" at one location will be installed. In addition, eight culverts will be replaced along the route as the roadway embankment undergoes stabilization. The soldier pile wall location near Rich Bar will be reduced to one lane for a half mile length with a temporary traffic signal.
Current Project Schedule:
It is estimated this project will take 175 workings days. Construction is scheduled to start on July 11, 2022 and completed in 2024.
Project Cost:
$20 million
Receive Updates:
Follow Caltrans District 2 on Facebook and Twitter.
Press Releases:
Contacts:
Public Information Officer: Kurt Villavicencio