District: District 11 – San Diego and Imperial Counties
Contact: Judy Walsh-Jackson
Phone: (619) 688-6670
The project includes Bridge Rehabilitation and Seismic Retrofit, Safety Enhancements, and Accessibility Advancements
SAN DIEGO — Today, the Biden-Harris Administration announced awarding $24 million in federal Bridge Investment Program funds to the City of San Diego for improvements to the Palm Avenue/Interstate 805 (I-805) bridge in the Otay Mesa/Nestor region. Caltrans District 11 will work in partnership with the City to oversee the construction and delivery of the project.
The grant was announced during a visit to San Diego by the Federal Highways Administration's Deputy Administrator Andrew Rogers on Thursday, April 13.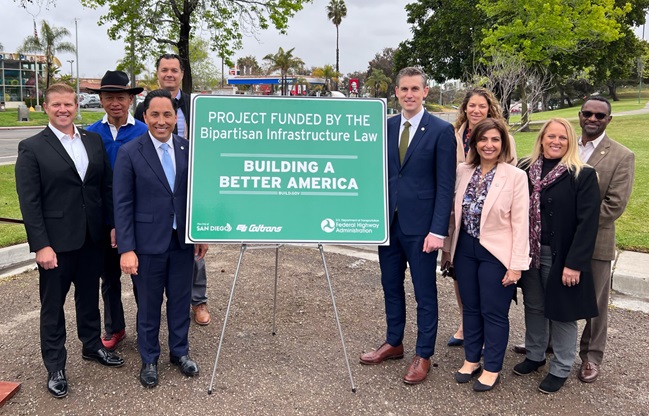 As part of the project, the bridge will be seismically retrofitted and widened for left turn pockets to improve safety and operations of the area, as well as provide multi-modal benefits such as bus stop landings for future transit service, and bike and pedestrian enhancements which will provide improved access to local amenities to fortify regional connectivity for job growth.
"Our mission at Caltrans is to ensure that we are serving and meeting the community's transportation needs via a safe and multi-modal state system," said Caltrans District 11 Director Gustavo Dallarda. "Once complete, this bridge project will give people and goods more options to get where they need to go and how they want to get there. The grant ensures that a bridge from the past continues to serve the users of today and future generations and maintains the integrity of our infrastructure needs." In recent years, the area's population has seen high growth, significantly impacting traffic conditions. In addition, the bridge is in close proximity to the U.S./Mexico border, along the vital bi-national I-805 route.
"This partnership with the City shows that our holistic regional approach brings federal dollars that can be streamlined equitably to all communities we collectively serve," Dallarda said.
Created in the Bipartisan Infrastructure Law, the Bridge Investment Program is a competitive, discretionary grant program focusing on existing bridges requiring improvements to meet today's transportation needs.
The project is currently in the design phase. Construction is expected to begin in Spring 2024.
Motorists are reminded to be Work Zone Alert if traveling in the area and to watch for highway workers and moving construction equipment.
The construction schedule is subject to change due to weather conditions, traffic incidents, or other construction-related reasons.
---
For real-time traffic information, including traffic speed, lane and road closures due to construction and maintenance activities, and more, go to http://quickmap.dot.ca.gov/
Follow @SDCaltrans on Twitter and like Caltrans District 11 on Facebook at www.facebook.com/SDCaltrans for news related to state transportation in San Diego and Imperial counties.