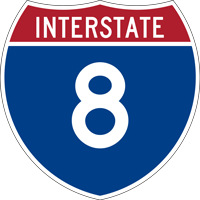 District: District 11 — San Diego and Imperial Counties
Contact: Christian.gomez@dot.ca.gov
Phone: (619) 688-6670
SAN DIEGO — Caltrans construction crews will close the La Mesa Boulevard and Severin Drive on-ramp, and El Cajon Boulevard off-ramp to eastbound Interstate 8 (I-8) Sunday through Thursday from 7 p.m. to 8 a.m. Two right lanes on eastbound I-8 from Grossmont Boulevard to Marshall Avenue in El Cajon will close from 8 p.m. to 11 a.m. for asphalt repair. There will be no full freeway closure.
Additionally, two right lanes of northbound State Route 125 (SR-125) to eastbound I-8 connector will be closed Sunday through Thursday from 7 p.m. to 8 a.m.
Residents in the area may hear truck and beeping from construction vehicles. The Occupational Safety & Health Administration established standards for the use of backup alarms on construction vehicles and material handling equipment because of the widespread danger posed to people on the site.
Additional information on this project can be found at https://dot.ca.gov/caltrans-near-me/district-11/current-projects/i8pavandbridgerehab
For real-time traffic information including traffic speed, lane, and road closures due to construction and maintenance activities, and more, go to http://quickmap.dot.ca.gov/
Follow @SDCaltrans on Twitter at www.twitter.com/SDCaltrans and like Caltrans District 11 on Facebook at www.facebook.com/CaltransDistrict11 for news related to state transportation in San Diego and Imperial counties.