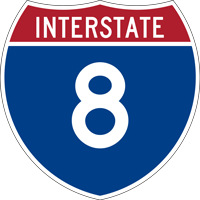 District: District 11 – San Diego and Imperial Counties
Contact: Christian Gomez
Phone: (619) 688-6670
SAN DIEGO — Caltrans construction crews will close the eastbound two right lanes on Interstate 8 (I-8) from Grossmont Boulevard to Marshall Avenue Wednesday through Thursday night from 8 p.m. to 11 a.m. for asphalt repair.
The two left lanes on westbound Interstate 8 (I-8) will be closed Thursday night from 6:30 p.m. to 5:30 a.m. for lane striping and movement of construction barriers. There will be no full freeway closure.
Caltrans is working to repair storm damage that is a direct result of the recent storms in this area. An active construction project is also happening in El Cajon to replace pavement and bridge decks. Additional information on this project can be found at https://dot.ca.gov/caltrans-near-me/district-11/current-projects/i8pavandbridgerehab
Motorists are reminded to be Work Zone Alert if traveling in the area and to watch for highway workers and moving construction equipment.
The construction schedule is subject to change due to weather conditions, traffic incidents, or other construction-related reasons.
---
For real-time traffic information, including traffic speed, lane and road closures due to construction and maintenance activities, and more, go to http://quickmap.dot.ca.gov/
Follow @SDCaltrans on Twitter and like Caltrans District 11 on Facebook at www.facebook.com/SDCaltrans for news related to state transportation in San Diego and Imperial counties.