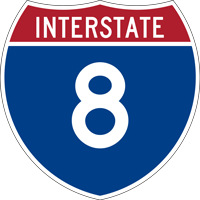 District: District 11 – San Diego and Imperial Counties
Contact: Cathryne.Bruce-Johnson@do-t.ca.gov
Phone: (619) 688-6670
SAN DIEGO — Construction crews will reduce two sections of eastbound Interstate 8 (I-8) to one lane in East County beginning September 13 at 9 p.m. through the end of December for ongoing work on the eastbound I-8 Pine Valley Pavement Project.
A 2.5-mile section of eastbound I-8 will be reduced to one lane from the West Willows Road Undercrossing to east of Viejas Creek bridge.
The second section of lane closures spans nearly two miles on eastbound I-8 from Vista Point to SR-79/Japatul Road.
Crews will install concrete barriers to separate the work zone from live traffic on the open lane. Most of the work will take place weekdays with some nighttime work scheduled as needed.
Ramps within the construction zone will close temporarily as needed for paving operations.
Vista Point is serving as a staging area for the project and remain closed until work is complete.
The eastbound I-8 bicycle lane will also be closed during the project for the safety of bicyclists, drivers, and highway workers. Shuttle transportation will be provided for bicyclists from East Willows Road to the State Route 79 (SR-79)/ Japatul Valley Road Park and Ride.
The Eastbound I-8 Pine Valley Pavement Project will cover 10 miles from Viejas Creek Road to just west of Pine Valley Creek Bridge. Work on Viejas Creek Road to SR-79 will replace the right lane and outside shoulder with Continuously Reinforced Concrete Pavement (CRCP), the left shoulder with hot mixed Asphalt, and install drainage improvements.
CRCP is a process of placing steel reinforcing bars within the concrete along the entire length of the lanes. CRCP naturally forms tight transverse cracks to evenly transfer loads. The result is a continual, smooth-riding surface capable of withstanding the heaviest loads and the most adverse environmental conditions. The life span of CRCP pavement may be up to 70 years, far exceeding current road surfaces. This means a better driver experience with less cost and maintenance time for highway workers exposed to live traffic.
The portion of the project from SR-79 to just west of Pine Valley Creek Bridge will replace the right two lanes and right shoulder with CRCP. The work includes replacing/upgrading guard rails and repairing bridge rails on five bridges. The estimated total project cost is $46.8 million funded by state and federal sources.
The construction schedule is subject to change due to weather conditions, traffic incidents or other construction related reasons.
---
For real-time traffic information including traffic speed, lane and road closures due to construction and maintenance activities, and more, go to http://quickmap.dot.ca.gov/
Follow @SDCaltrans on Twitter and like Caltrans District 11 on Facebook at www.facebook.com/SDCaltrans for news related to state transportation in San Diego and Imperial counties.