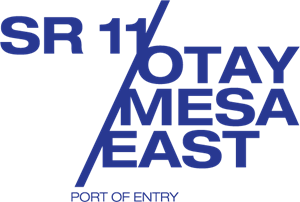 District: District 11 – San Diego and Imperial Counties
Contact: Nicholas.Buenviaje@dot.ca.gov
Phone: (619) 688-6670
SAN DIEGO – The State of California and the San Diego Association of Governments (SANDAG) today broke ground on a new port of entry for the California-Baja California region, Otay Mesa East. The Otay Mesa East Port of Entry, a priority project for the United States and Mexico, aims to reduce wait times, increase economic efficiencies, cut emissions and ensure the San Diego-Baja region has the infrastructure it needs to continue its dynamic growth.
Congestion at the border has limited travel and economic growth, negatively impacted public health and contributed to the effects of climate change.
The California State Transportation Agency, Caltrans, SANDAG, and the United States and Mexican federal governments have partnered to address these challenges by designing an innovative border crossing facility that aims to achieve an average wait time of 20 minutes and improve the safety, security and efficiency of trade and travel between the two countries. With state-of-the-art facilities and a new wait-time detection system, the Otay Mesa East Port of Entry will improve travel reliability and support the unique binational communities on both sides of the busiest border region in the Western Hemisphere.
"Otay Mesa East will be a vital link in strengthening the nation's supply chain and in creating thousands of jobs, not just in the local region, but across the U.S," stated California Lieutenant Governor Eleni Kounalakis. "Estimates show that this project will support more than $1.8 billion in trade volume and 16,000 jobs that would otherwise be lost."
This project is 20 years in the making and a key priority of the Baja California-California Border Master Plan, led by the California State Transportation Agency, Caltrans, SANDAG and their Mexican counterparts.
"Today we mark a historic milestone for our binational region with the groundbreaking of the new Otay Mesa East Port of Entry," said SANDAG Chair and Encinitas Mayor Catherine Blakespear. "The collaboration it took for SANDAG and Caltrans to reach this point is truly remarkable and a symbol of the type of partnership, innovation and forward-looking mobility solutions we are working toward through the 2021 Regional Plan."
Lieutenant Governor Kounalakis, California State Transportation Agency Secretary Toks Omishakin, Mayor Blakespear, City of San Diego Mayor Todd Gloria, County of San Diego Supervisor Nora Vargas, City of San Diego Councilmember Vivian Moreno, and Consul General of Mexico to San Diego Carlos Gonzalez Gutiérrez, and representatives from the U.S. Department of Transportation, U.S. Customs and Border Protection, U.S General Services Administration and the Federal Highway Administration were among those in attendance at the groundbreaking event.
In addition to breaking ground on the new port of entry, earlier this summer SANDAG and Caltrans announced the completion of the new southbound State Route 125 (SR 125) to westbound State Route 905 (SR 905) freeway connector in Otay Mesa as part of the project's efforts to support regional mobility. The completion of the new connector marks a critical milestone for the development of the Otay Mesa East Port of Entry by ensuring all access points have been completed on the United States side of the border.
"We break ground today, but what will be truly groundbreaking are the immense mobility, environmental and economic benefits for the entire region when this transformational project is complete," said Secretary Omishakin.
About the State Route 11 Otay Mesa East Port of Entry project
The SR 11 Otay Mesa East Port of Entry project is a joint venture between SANDAG and Caltrans in collaboration with state and federal partners in the U.S. and Mexico to create a 21st-century border crossing for the San Diego-Baja California mega-region that will enhance regional mobility and fuel economic growth and binational trade.
The proposed border improvements will provide fast, predictable and secure border crossings by constructing a four-lane, tolled road connecting directly to a state-of-the-art Customs and Border Protection Land Port of Entry and a California Highway Patrol Commercial Vehicle Enforcement Facility.
Additional improvements include:
A new border wait-time detection system
Advanced traveler information to improve route planning
An optimized port of entry capacity to decrease congestion and wait times
About Caltrans
Caltrans' mission is to provide a safe and reliable transportation network that serves all people and respects the environment. District 11 in San Diego and Imperial counties serves one of the country's most geographically and culturally diverse areas, spanning the entire California-Mexico Border from the Pacific coast to Arizona and reaches north from the international border to Orange and Riverside counties.
About SANDAG
SANDAG is the regional agency that connects people, places, and innovative ideas by implementing solutions with our unique and diverse communities. We are committed to creating a San Diego region where every person who visits, works, and lives can thrive.
---
For real-time traffic information including traffic speed, lane and road closures due to construction and maintenance activities, and more, go to http://quickmap.dot.ca.gov/
Follow @SDCaltrans on Twitter and like Caltrans District 11 on Facebook at www.facebook.com/SDCaltrans for news related to state transportation in San Diego and Imperial counties.