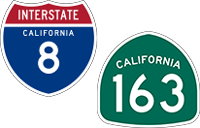 District: District 11 – San Diego and Imperial Counties
Contact: Christian.Gomez@dot.ca.gov
Phone: (619) 688-6670
SAN DIEGO — Caltrans crews will close the eastbound Interstate 8 (I-8) connector ramp to Southbound State Route 163 (SR-163) Thursday from 7 P.M to 5 A.M. and all day Saturday, August 13, from 5 a.m. to 7 p.m. for bridge rail repair, and placement of polyester concrete.
In addition, the connector will be closed from 9 p.m. to 5 a.m. on Thursday, August 18.
The purpose of the project is to provide a safe transportation system for motorists by upgrading the existing bridge railings to meet current standards and rehabilitating the bridge to maintain its functionality as a transportation facility.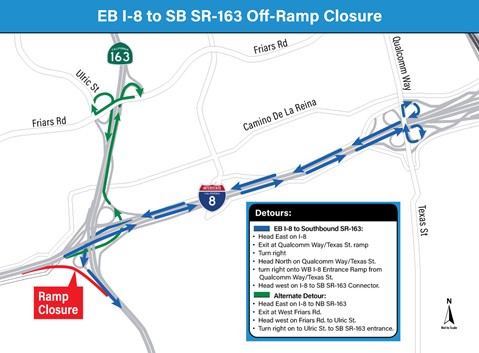 Eastbound I-8 to Southbound SR-163 Detour
Head East on I-8, Exit at Qualcomm Way/Texas Street Ramp, Turn right, Head North on Qualcomm Way/Texas Street, turn right onto WB I-8 Entrance Ramp from Qualcomm Way/Texas Street, then head west on Route I-8 towards SB SR-163.
Alternate Detour from Eastbound I-8 to Southbound SR-163 Detour
Head East on I-8 to North Bound SR-163, Take exit to West Friars Road,turn right, Head west on Friars Road to Ulric Street. Turn right on to Ulric Street then turn right onto Southbound SR-163 entrance.
---
For real-time traffic information including traffic speed, lane and road closures due to construction and maintenance activities, and more, go to http://quickmap.dot.ca.gov/
Follow @SDCaltrans on Twitter and like Caltrans District 11 on Facebook at www.facebook.com/SDCaltrans for news related to state transportation in San Diego and Imperial counties.