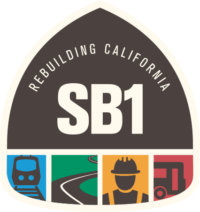 District: District 11 — San Diego
District Contact: Barbara.C.Moreno@dot.ca.gov
Phone:619-417-3753
SAN DIEGO — The California Transportation Commission (CTC) allocated more than $3 billion Thursday to repair and improve transportation infrastructure throughout the state, including $1.3 billion in funding from the federal Infrastructure Investment and Jobs Act to support local projects and to protect local roads and bridges from extreme weather and natural disasters. Senate Bill (SB) 1, the Road Repair and Accountability Act of 2017, accounts for more than $930 million of the total funding.
"The CTC's decision to invest in our state highways while protecting city and county infrastructure will help make California's roadways safer and more resilient one shovel, one project and one community at a time," said Caltrans Director Tony Tavares.
In addition, $2.3 million is being invested statewide to support active transportation projects through technical assistance, training, and resource tools/materials.
"These funds are vital to ensuring that the communities we serve have the infrastructure they need – no matter how they travel: by car, by bicycle, by transit, or on foot," said Gustavo Dallarda, Caltrans District 11 Director.
A total of $64.66 million is directly being invested into Caltrans District 11's region which serves San Diego and Imperial Counties.
Here's an overview of the breakdown of the funds and some of the key projects:
$5.6 Million to Caltrans District 11 in State Highway Operation and Protection Program (SHOPP)
$3.4 million to install Americans with Disability Act (ADA) pedestrian curb ramps and pedestrian signals, replace sidewalks, and traffic signals in the City of San Diego;
$684,000 for commercial vehicle weigh stations on Interstate 5 (I-5) San Onofre
$837,000 for a new maintenance facility, electrical service upgrades, solar panels, a zero-emission vehicle charging station on Interstate 8 (I-8) near Boulevard;
$26.2 Million in SB 1 Funding
$8 million for pavement rehabilitation, replacement of damaged sign panels, and make upgrades to bridge rail, the transportation management system, as well as ADA upgrades along State Route (SR-78) in Oceanside, Vista, San Marcos, and Escondido;
$5.9 million to add and upgrade Transportation Management System elements, pavement rehabilitation, drainage, sign replacement from Interstate I-15 to State Route 52 (SR-52) in San Diego
$4.3 million to rehabilitate culverts, replace signs, lighting, and ADA upgrades from north of SR-52 to I-5;
$780,000 in pavement rehabilitation, drainage, signs, transportation management system, and ADA improvements on I-5 in San Diego, Chula Vista, and National City;
$354,000 for bridge rehabilitation on I-5 at Clairemont Drive;
$337,000 for rehabilitation to five bridges on I-805 in San Diego, Chula Vista, National City.
$3.7 Million for Bikes/Pedestrian/Complete Streets/Active Transportation Plans
$3.4 million for the City of Vista and SANDAG on Townsite Complete Street Improvements;
$229,000 for Imperial County and Imperial County Transportation Commission for the Aten Road Class I Bicycle Path Improvements;
$58,000 for National City and SANDAG's Highland Avenue Inter-City Bike Connection.
Trade/Border Investments
$22.7 million for the City of San Diego and SANDAG to make improvements at La Media Road. Funds are to improve La Media Road into a six-lane primary arterial between State Route 905 (SR-905) and Airway Road and five-lane major road between Airway Road and Siempre Viva Road with three southbound lanes and two northbound lanes.
Transit/Rail Investments
$4.3 million for North County Transit District and SANDAG LOSSAN rail corridor to replace obsolete crossing controls and electrical components;
$1.6 million for North County Transit District and SANDAG LOSSAN rail corridor to install a pedestrian grade crossing and warning device at Oceanside Transit Center.
The $1.3 billion federal local assistance allocation in fiscal year 2023 is thanks to programs that were created or expanded under the Infrastructure Investment and Jobs Act, also referred to as the Bipartisan Infrastructure Law. Caltrans oversees funds that are available to more than 600 cities, counties, and regional agencies for the purpose of improving their transportation infrastructure and services. Funding from new programs that were created by the law includes $45 million to build community resilience in the face of extreme weather and natural disasters and $63 million to help develop carbon reduction strategies that address the climate crisis.
SB 1 provides $5 billion in annual transportation funding annually that is split between the state and local agencies. Road projects progress through construction phases more quickly based on the availability of SB 1 funds, including projects that are partially funded by SB 1.
For more information about transportation projects funded by SB 1, visit: RebuildingCA.ca.gov.