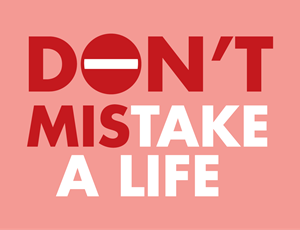 District: District 11 — San Diego and Imperial Counties
Contact: Stephen.Welborn@dot.ca.gov
Phone: (619) 688-6670
SAN DIEGO — Ahead of Memorial Day Weekend, Caltrans and the California Office of Traffic Safety (OTS) are launching a wrong-way driver prevention campaign in San Diego County to reduce incidents of drivers entering the freeway in the wrong direction and encourage drivers not to drive impaired.
"This campaign addresses impaired driving as the common cause of wrong-way collisions, and we hope to significantly reduce crashes involving wrong-way drivers and other impaired drivers by enhancing public awareness," said Caltrans District 11 Director, Gustavo Dallarda.
On average, 37 people are killed each year in wrong-way crashes on California roads. In 2019, there were 248 wrong-way crashes on state highways. Almost half involved drivers who were under the influence of drugs or alcohol. Nationally, there were about 500 deaths per year from wrong-way driving crashes from 2015 to 2018, up 34% from the deaths in 2010 to 2014 according to research performed by the AAA Foundation for Traffic Safety.
"Wrong-way crashes are often deadly and tragic," OTS Director Barbara Rooney said. "Our goal is to familiarize the public with important prevention measures in place on our highways to reduce these horrific incidents."
The campaign features the tagline "DON'T MISTAKE A LIFE" as a somber reminder that errantly entering the freeway in the wrong direction can be deadly. The campaign, which will include advertisements on billboards, social media, print publications, and on buses and transit shelters, also features messages such as "RED REFLECTORS MEAN WRONG WAY" and "IMPAIRED DRIVERS MAKE WRONG WAY DRIVERS."
"The often-violent aftermath from crashes with wrong-way drivers underscores the need for motorists to focus on driving defensively and distraction-free every time they get behind the wheel," said CHP Border Division Chief Scott Parker.
In San Diego, the number of wrong-way drivers decreased by 44 percent during Caltrans' initial pilot program that installed specialized reflectors, sensors and illuminated signs in 2018. A concurrent pilot conducted in the Sacramento area resulted in a 60 percent drop in the number of wrong-way drivers. The reflective markers proved to be so effective that Caltrans has installed them on hundreds of miles of highways throughout the state. The department has allocated nearly $9 million toward wrong-way driver prevention upgrades like red pavement reflectors and larger wrong-way warning signs on 74 highway ramps throughout San Diego County.
If you see a wrong-way driver:
Move as quickly and as safely out of the way as possible. As soon as it is safe to do so, call 911 and report the driver.
While driving, maintain a high visual horizon to scan the environment on the road far ahead of where you are driving. This increases your ability to see roadway hazards far ahead and safely get out of the way.
Keep your headlights on at night. If a wrong-way driver sees headlights, they might realize they are going the wrong way.
Most importantly, avoid distractions, pay attention, and don't drink and drive.
---
For real-time traffic information including traffic speed, lane and road closures due to construction and maintenance activities, and more, go to http://quickmap.dot.ca.gov/
Follow @SDCaltrans on Twitter and @D11Caltrans on Instagram; and like Caltrans District 11 on Facebook at www.facebook.com/SDCaltrans for news related to state transportation in San Diego and Imperial counties.