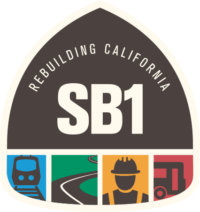 District: District 11 – San Diego and Imperial Counties
Contact: Hayden.Manning@dot.ca.gov
Phone: (619) 688-6670
SACRAMENTO — The California Transportation Commission (CTC) today allocated more than $1.4 billion for projects to repair and improve transportation infrastructure throughout the state. Senate Bill (SB) 1, the Road Repair and Accountability Act of 2017, accounts for more than half of this investment – $884 million.
"California continues to make significant investments in fixing our roads, highways, bridges and transit systems," said Caltrans Director Toks Omishakin. "SB 1 is critical to making these repairs and upgrades, while also supporting thousands of jobs that are essential for our economy."
Projects approved today include:
$12,500,000 for the Citracado Parkway Transportation Connection Project that will provide four through lanes, sidewalks, energy efficient street lighting, buffered bike lanes, and landscaped parkways in Escondido from West Valley Parkway to Andreasen Drive.
$5,000,000 to improve safety and reliability, improve overall on-time performance for North County Transit District and rail partners on the LOSSAN Corridor by constructing three new control points and related track work, wayside signaling, switches, and Positive Train Control upgrades at the south entrance of Santa Fe Depot in San Diego County.
$ 1,758,000 to stabilize existing slopes and landscaping from further erosion and sediment deposition into the Los Peñasquitos Lagoon in San Diego adjacent to Carmel Mountain Road.
$748,000 to design and construct a dedicated maintenance, support, and storage location for the Pacific Surfliner service at the southern end of the LOSSAN rail corridor.
$600,000 to the Blue Line Rail Corridor Transit Enhancements (American Plaza Pedestrian Enhancements to develop a conceptual plan and design for pedestrian safety enhancements on Kettner Boulevard, adjacent to Santa Fe Depot.
"These allocations from the CTC highlight our regional efforts to provide transportation choices other than our cars," said Caltrans District 11 Director Gustavo Dallarda. "By improving our rail, bike paths and sidewalks, users will be able to plan their work and recreation activities more efficiently."
SB 1 provides $5 billion in transportation funding annually split between the state and local agencies. Road projects progress through construction phases more quickly based on the availability of SB 1 funds, including projects that are partially funded by SB 1. For more information about other transportation projects funded by SB 1, visit RebuildingCA.ca.gov.
---
For real-time traffic information including traffic speed, lane and road closures due to construction and maintenance activities, and more, go to http://quickmap.dot.ca.gov/
Follow @SDCaltrans on Twitter and @D11Caltrans on Instagram; and like Caltrans District 11 on Facebook at www.facebook.com/SDCaltrans for news related to state transportation in San Diego and Imperial counties.