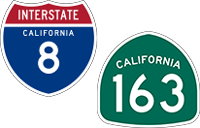 District: District 11 – San Diego and Imperial Counties
Contact: Hayden.Manning@dot.ca.gov
Phone: (619) 688-6670
SAN DIEGO — Maintenance crews will close the eastbound Interstate 8 (I-8) connector to southbound State Route 163 (SR-163) Wednesday and Thursday from 9 a.m. to 3 p.m. for tree maintenance, according to Caltrans.
Eastbound I-8 motorists will exit at Texas Street/Qualcomm Way, turn left to westbound I-8 to southbound SR-163.
---
For real-time traffic information including traffic speed, lane and road closures due to construction and maintenance activities, and more, go to http://quickmap.dot.ca.gov/
Construction During COVID-19 Pandemic: Public works construction is deemed essential and our partners, contractors, and workers are following U.S. Center for Disease Control and California Department of Public Health guidelines at all construction sites. For more information about COVID-19, visit: covid19.ca.gov
Follow @SDCaltrans on Twitter and @D11Caltrans on Instagram; and like Caltrans District 11 on Facebook at www.facebook.com/SDCaltrans for news related to state transportation in San Diego and Imperial counties.