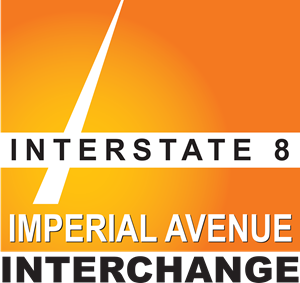 District: District 11 – San Diego and Imperial Counties
Contact: Cathryne.Bruce-Johnson@dot.ca.gov
Phone: (619) 688-6670
EL CENTRO, Calif.—Caltrans partnered with state and local transportation officials June 10 to announce work on the Interstate 8 (I-8)/Imperial Avenue Interchange Project that represents a significant investment in local, state and cross-border trade and commerce. Meanwhile, drivers in the city of El Centro are advised to prepare for closures of eastbound Interstate 8 (I-8) on- and off-ramps at Imperial Avenue lasting several months beginning July 6.
Adapting to COVID-19 social distancing guidelines, officials from the following agencies released an informational video about the project and construction impacts: California State Transportation Agency (CalSTA) Secretary David S. Kim; Caltrans Director Toks Omishakin; Caltrans District 11 Director Gustavo Dallarda; Imperial County Transportation Commission (ICTC) Chairman George A. Nava, City of Brawley Councilmember; County of Imperial Board of Supervisors Chairman Luis A. Plancarte, District 2 Supervisor; City of El Centro Mayor Efrain Silva; California Highway Patrol Border Division Assistant Chief Ray Diggins; El Centro Chamber of Commerce President Ann Irigoyen; and Imperial Valley Aggregates, LLC President Matthew Richert.
"Every day, 31,000 motorists and commercial trucks travel through the Imperial Avenue Interchange on I-8 and I firmly believe this project is key to maintaining the Imperial Valley's economic vitality," said CalSTA Secretary Kim.
"It supports economic growth. That means more local jobs. Once it's finished, it will eliminate the need for local motorists and commercial trucks to travel out of their way onto city streets and county roads," said Caltrans Director Omishakin.
City of El Centro Mayor Efrain Silva stated, "This is one of the most important projects in the City and one that will have an everlasting benefit to the City of El Centro and the quality of life of our residents."
Work on the project began in May and will involve mostly earthwork for the rest of the month according to recent Caltrans construction updates.
Stage 1 construction on the project will require closing the eastbound I-8 on- and off-ramps at Imperial Avenue for eight to 10 months beginning July 6 as crews work on the southern portion of the intersection. The westbound I-8 on- and off-ramps will remain open for this first stage.
During the extended closure of eastbound I-8 Imperial Avenue ramps, motorists on eastbound I-8 will be detoured along 4th Street/State Route 86 (SR-86) located east of Imperial Avenue.
Nighttime closures on the I-8/Imperial Avenue interchange will take place Monday and Tuesday, July 20-21 from 9 until 5 in the morning. Motorists will be detoured along adjacent interchanges and city streets.
Noisy construction work will be scheduled during the day as much as possible with three months of noisy pile driving work. Nighttime bridge demolition will also be noisy but is only expected to take place one or two nights at a time, for several times.
"We work very hard with our contractor to reduce that (noise and dust) to a minimum. But we also would like to acknowledge that sometimes that's not entirely possible…," said Caltrans District Director Dallarda.
The project will remove the existing bridge and eastbound on- and off-ramps, then reconstruct the structure and the on- and off-ramps in both directions. Construction will include a new entrance loop ramp from southbound Imperial Avenue to eastbound I-8 and create access to the City's upcoming extension of southbound Imperial Avenue to city areas south of I-8.
Stage 2 work on the northern portion of I-8 is anticipated to take four to six months to complete and could begin as early as December. During Stage 2, all I-8/Imperial Avenue on- and off- ramps will be fully closed.
The total project cost is approximately $44 million with $42 million funded through the Regional Improvement Program and another $2 million from the Federal Highway Priority Projects Program.
Dallarda thanked the community for watching out for construction people including Caltrans people, the contractor and emergency responders. "Their safety is paramount," Dallarda said.
More information about the I-8 Imperial Avenue Project may be found at this link: https://dot.ca.gov/caltrans-near-me/district-11/current-projects/i8-imp-interchange
Construction During COVID-19 Pandemic: Public works construction is deemed essential and work continues during the pandemic. Our partners, contractors and workers are following U.S. Center for Disease Control and California Department of Public Health guidelines. For more information about COVID-19 visit http://covid19.ca.gov/
---
For real-time traffic information including traffic speed, lane and road closures due to construction and maintenance activities, and more, go to http://quickmap.dot.ca.gov/
Follow @SDCaltrans on Twitter and Instagram; and like Caltrans District 11 on Facebook at www.facebook.com/CaltransDistrict11 for news related to state transportation in San Diego and Imperial counties.