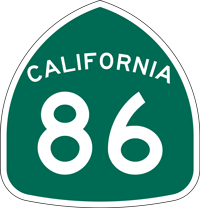 District: District 11 — San Diego and Imperial Counties
Contact: Cathryne.Bruce-Johnson@dot.ca.gov
Phone: (619) 688-6670
EL CENTRO, Calif. — Caltrans advises drivers to plan for a full closure of westbound State Route 86 (SR-86) at Kalin Road, located just west of Brawley, for approximately three weeks beginning Monday at 7 a.m., for repairs to the Tamarack Canal Bridge.
Eastbound SR-86 and Kalin Road will remain open. Detours may increase driving times up to 10 minutes.
Signs will be posted directing motorists to use the following detours (see attached map):
SR-86 from south of Brawley: Motorists on westbound SR-86 will be directed to northbound State Route 111 (SR-111) to westbound State Route 78 (SR-78) to SR-86.
SR-111 from south of Brawley: Motorists on northbound SR-111 will be directed to continue north to westbound SR-78 to SR-86.
SR-78 From east of Brawley: Motorists on westbound SR-78 will be directed to northbound SR-111, to westbound SR-78 to SR-86.
Westbound SR-86/Kalin Road intersection: Motorists will be directed to make a U-turn onto eastbound SR-86.
Construction crews will work weekdays from 6 a.m. to 6 p.m. with weekend and nightwork as needed to expedite bridge repairs. Noisy construction work includes pile driving, grinding asphalt surfaces and concrete, as well as construction equipment movement and back-up alarms.
Caltrans thanks community members for their patience during construction activities and reminds drivers to 'Be Work Zone Alert' by avoiding distracted driving and paying constant attention to traffic. Schedules are subject to change based on weather and other unforeseen factors.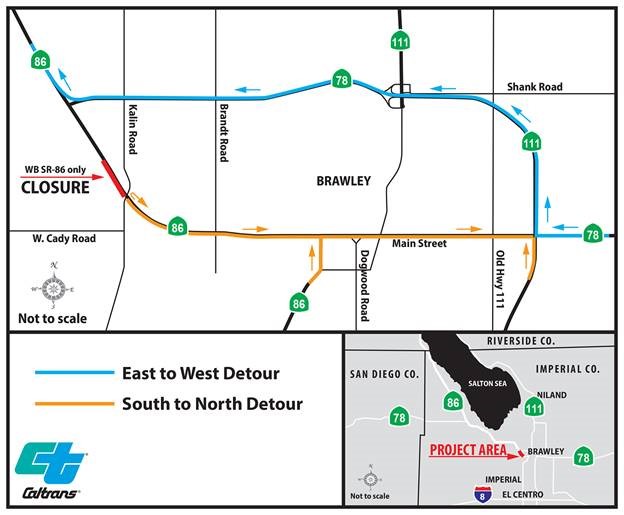 ---
For real-time traffic information including traffic speed, lane and road closures due to construction and maintenance activities, and more, go to http://quickmap.dot.ca.gov/
Follow @SDCaltrans on Twitter and Instagram; and like Caltrans District 11 on Facebook at www.facebook.com/CaltransDistrict11 for news related to state transportation in San Diego and Imperial counties.