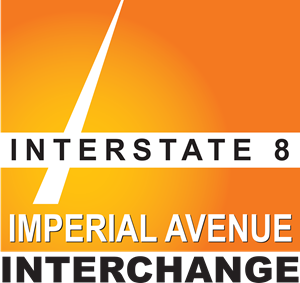 District: District 11 — San Diego and Imperial Counties
Contact: Cathryne.Bruce-Johnson@dot.ca.gov
Phone: (619) 688-6670
EL CENTRO, Calif.—Caltrans in partnership with the Imperial County Transportation Commission (ICTC) and the City of El Centro announced plans to begin construction on the Interstate 8 (I-8) Imperial Avenue Interchange Project in the City of El Centro late spring/early summer.
However, with highway construction comes traffic impacts including long-term interchange ramp closures and detours that will affect businesses and residential areas.
Caltrans invites the community to learn more at an Open House on Wednesday, January 15 from 4-7 p.m. at the El Centro Regional Medical Center—Medical Office Building, 1271 Ross Avenue, Floor 2, El Centro, CA 92243.
The two-year project will remove the existing bridge and eastbound on- and off-ramps, then reconstruct the structure and the on- and off-ramps in both directions. Construction will include a new entrance loop ramp from southbound Imperial Avenue to eastbound I-8 and create access to the City's upcoming extension of southbound Imperial Avenue to south of I-8.
"Caltrans and our partners are working hard to update the existing interchange and create an enhanced community connection, and input from the community will help ensure improved traffic flow and enhanced pedestrian and bicycle access along Imperial Avenue," said Acting Caltrans District Director Gustavo Dallarda.
"The I-8 Imperial Avenue Interchange Project will connect the southside neighborhoods of El Centro to the north side of the city where most community services are located. We know that city traffic will be heavily impacted for some time, but ultimately the extension of Imperial Avenue will bring prosperity and benefits for generations to come. The overall result will be reduced traffic congestion at Imperial Avenue and 4th Street interchanges as well as improved traffic safety by updating the existing interchange," said City of El Centro Mayor Efrain Silva.
"The Project has been a part of the Imperial County Long-Range Transportation Plan for over 20 years. Since 2014, the California Transportation Commission (CATC) has approved up to $42 million of ICTC's requests to fund the design, right-of-way and construction with ICTC's regional share of state funds," said ICTC Chairman Robert Amparano, Mayor City of Imperial.
"We want to get the word out early to the community about interchange ramp closures and detours. We encourage business owners and residents to come to the Open House on January 15th to learn about project traffic impacts once construction gets underway and to speak to project team members face to face," said Caltrans District Division Chief of Design Ross Cather.
Stage 1 work on the southern portion of I-8 will take eight to ten months to complete and will include closures on southbound Imperial Avenue to eastbound I-8 and eastbound I-8 to northbound Imperial Avenue. The I-8 westbound off-ramp to Imperial Avenue and westbound on-ramp from Imperial Avenue will remain open during Stage 1. Detours will be along State Route 86 (SR-86)/4th Street, Adams Avenue and Imperial Avenue.
Stage 2 work on the northern portion of I-8 is anticipated to take four to six months and will include fully closing I-8/Imperial Avenue on- and off- ramps one direction at a time long term. Motorists will be detoured onto SR-86/4th Street to Adams Avenue at the north or southward to East Heber Road then north on State Route 111.
Nighttime full closures of the I-8/Imperial Avenue intersection will take place up to five times in the duration of the project to set up and take down falsework and tear down the old structure. Motorists will be detoured along Forrester Road, Evan Hewes Highway/Adams Avenue, and SR-86/4th Street.
Project total cost is approximately $42 million funded through the State Regional Improvement Program and the Federal Highway Priority Projects Program.
More information about the I-8 Imperial Avenue Project may be found at this link: https://dot.ca.gov/caltrans-near-me/district-11/current-projects/i8-imp-interchange
For more information about the Open House or to receive project updates, email the Caltrans Public Information Office at CT.Public.Information.D11@dot.ca.gov or call (619) 688-6670.
---
For real-time traffic information including traffic speed, lane and road closures due to construction and maintenance activities, and more, go to http://quickmap.dot.ca.gov/
Follow @SDCaltrans on Twitter and Instagram; and like Caltrans District 11 on Facebook at www.facebook.com/CaltransDistrict11 for news related to state transportation in San Diego and Imperial counties.