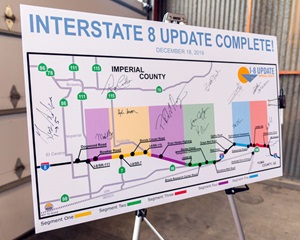 District: District 11 — San Diego and Imperial Counties
Contact: Cathryne.Bruce-Johnson@dot.ca.gov
Phone: (619) 688-6670
SAN DIEGO —Representatives from Caltrans, the Imperial County Transportation Commission as well as local officials and the California Highway Patrol gathered to celebrate the completion of a major pavement rehabilitation project covering 48 miles on Interstate 8 (I-8) in Imperial County.
Work on the I-8 Update Project began in early 2016 to replace the half-century-old concrete lanes on Interstate 8 from State Route 111 from just east of the city of El Centro to the California/Arizona state line. Final elements of construction will be completed by the end of the month.
"The $322.3 million I-8 Update Project represents a major infusion of infrastructure investment to the region and is part of creating, maintaining and evolving a great state transportation system for every user in California," said Caltrans Director Toks Omishakin.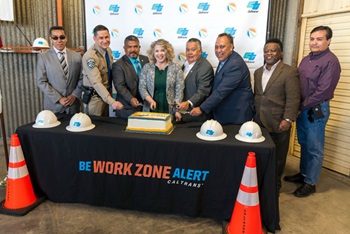 "Since 2015, the Interstate 8 and other pavement rehabilitation projects throughout the county are a great improvement to our transportation system. The projects are also a great infusion to our local economy because of the thousands of jobs created during construction," stated Mark Baza.
"A big thanks to Caltrans for the 48 miles of concrete rehabilitation on Interstate 8 from El Centro to our border with Yuma, Arizona in Winterhaven, CA and many other pavement rehab projects in the unincorporated areas in the County and many of our cities. The I-8 improvements are projected to have a life span of 70 years or more. The roadway is smooth and the median has been cleared of brush that had accumulated over the previous 50 years," stated Supervisor Ryan Kelley.
The project was constructed in five segments using a process called Continuously Reinforced Concrete Pavement (CRCP) that incorporated placing steel reinforcing bars within the concrete along the entire length of the lanes. The resulting pavement is smoother and expected to last more than 70 years which means a better driver experience with less maintenance time and cost. Another benefit is improved safety for highway workers who would otherwise be exposed to live traffic.
Other sustainable features of the project included requiring contractors to process removed concrete pavement into reusable materials. The material was used to stabilize the soil conditions as needed as well as shoulder backing. Recycled tires were used in Rubberized Hot Mix Asphalt on the ramps. New specifications gave the Contractor the option to use recycled concrete material in the new concrete.
Dust palliatives other than water were used for temporary dust control. Invasive plant species were removed. Concrete shoulders made with CRCP meant less maintenance and oil used.
The use of Evan Hewes Highway as a detour helped to reduce the environmental footprint, kept travelers and highway workers safe during construction and reduced construction time.
Caltrans will return Evan Hewes Highway to County jurisdiction—15.7 miles of rehabilitated road to be used as a designated bike route.
"This section of I-8 is not only significant to local traffic, recreational travelers and farming equipment but to international and interstate traffic between Mexico, California, and Arizona. Both private and commercial users now have a long-lasting superior roadway, capable of withstanding the heaviest traffic loads for decades," said Caltrans District 11 Deputy Director Ann Fox.
---
For real-time traffic information including traffic speed, lane and road closures due to construction and maintenance activities, and more, go to http://quickmap.dot.ca.gov/
Follow @SDCaltrans on Twitter and Instagram; and like Caltrans District 11 on Facebook at www.facebook.com/CaltransDistrict11 for news related to state transportation in San Diego and Imperial counties.