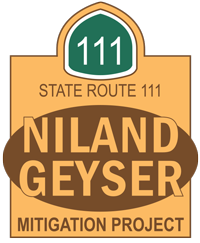 District: District 11 — San Diego and Imperial Counties
Contact: Cathryne.Bruce-Johnson@dot.ca.gov
Phone: (619) 688-6723
EL CENTRO, Calif. — Construction crews have placed one-way traffic control along a 2,000-foot segment of State Route 111 (SR-111) at Davis and Gillespie roads, about five miles northwest of Niland in Imperial County, according to Caltrans.
The work is part of an expedited project to build a temporary road to provide access to SR-111 as a natural-occurring geyser, in existence since 1953, moves toward the existing highway. Caltrans will rebuild SR-111 as the geyser moves west and beyond the temporary road.
Construction began last week and will continue Mondays through Saturdays from 6 a.m. to 6 p.m. through November. Additional closures may be necessary to accelerate the work—up to 24 hours a day and seven days a week.
A full closure of SR-111 and an extensive out-of-way detour for up to two weeks is planned later in the project. More details will be provided in advance of the full closure.
The speed limit through the construction zone has been reduced to 55 mph. Motorists are reminded to drive cautiously in the area and to watch for highway workers and construction equipment.
The SR-111 Niland Geyser Mitigation Project will be constructed in three phases:
Phase 1: Construct sheet pile walls to convey water to a gravel wash.
Phase 2: Construct a sub-surface drain to convey subsurface water beneath the roadway to a gravel wash on the west side of SR-111.
Phase 3: Construct a detour road west of the current alignment as a contingency to re-route traffic from SR-111.
The geyser/mud pot is releasing water, carbon dioxide and hydrogen sulfide gases in low concentrations and does not pose a health hazard. In the past 11 years, the geyser has moved slowly; however, the rate of movement has increased, and the geyser has already encroached the railroad right of way impacting Union Pacific Railroad tracks.
Caltrans has coordinated with local, state, and other partners for this mitigation and is now implementing this emergency project to expedite the work. For safety reasons, there is no access to the mud pot and public site visits are prohibited.
Caltrans staff thanks community members and motorists for their patience for any delays and inconvenience during construction.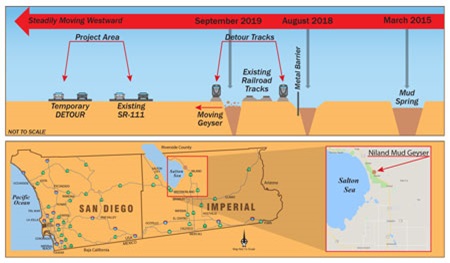 ---
For real-time traffic information including traffic speed, lane and road closures due to construction and maintenance activities, and more, go to http://quickmap.dot.ca.gov/
Follow @SDCaltrans on Twitter and like Caltrans District 11 on Facebook at www.facebook.com/CaltransDistrict11 for news related to state transportation in San Diego and Imperial counties.