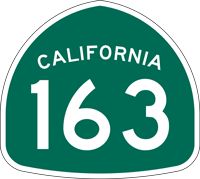 District: District 11 — San Diego and Imperial Counties
Contact: Hayden.Manning@dot.ca.gov
Phone: (619) 688-6723
SAN DIEGO —As Caltrans crews construct the permanent lanes for the State Route 163 (SR-163) Friars Road Interchange Project, motorists will encounter a series of traffic switches that are expected to continue to the end of November.
The first series of traffic shifts begin tonight. The Interstate 8 (I-8) eastbound and westbound to the SR-163 northbound bypass lane will be reduced to two lanes. The right lane will be dedicated to westbound Friars Road, the left lane will continue to northbound SR-163.
Note: Motorists on I-8 eastbound and westbound will continue to have the option to merge onto northbound SR-163 from the far-left lane just south of the eastbound Friars Road off-ramp.
Northbound and southbound Frazee Road will be reduced to two lanes in both directions. The left lane will be dedicated 'Left Turn Only' and the right lane will be a through lane with an optional right turn.
Motorists traveling to and from Hazard Center and Friars Mission Center (Ralphs & CVS shopping center) via Friars Road, during morning and evening commute hours, should add extra travel time.
The $40 million project will widen the SR-163 Friars Road overcrossing as well as improve the SR-163 on- and off-ramps. In addition, a southbound SR-163 auxiliary lane just north of the Friars Road off-ramp will be constructed.
---
For real-time traffic information including traffic speed, lane and road closures due to construction and maintenance activities, and more, go to http://quickmap.dot.ca.gov/
Follow @SDCaltrans on Twitter at www.twitter.com/SDCaltrans and like Caltrans District 11 on Facebook at www.facebook.com/CaltransDistrict11 for news related to state transportation in San Diego and Imperial counties.