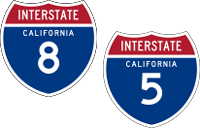 District: District 11 — San Diego and Imperial Counties
Contact: Ed.Cartagena@dot.ca.gov
Phone: (619) 688-6723
SAN DIEGO — Improve the Move at the Interstate 8 (I-8)/I-5 Interchange construction is nearly complete. Crews working along westbound I-8 will open new lanes and traffic safety enhancements for motorists for the Wednesday morning commute.
"Motorists will be able to use a new auxiliary lane between Taylor Street and Morena Boulevard, a second northbound lane to I-5, and new reflective overhead guide signs, said Caltrans Public Information Officer Edward Cartagena. "These improvements will allow for a more efficient commute."
For the remainder of the week crews will place new freeway route shields on the roadway to assist drivers through the interchange. Caltrans will also make pedestrian and bike improvements on Morena Boulevard starting next month.
As drivers get used to the new features and freeway alignment, Caltrans ask you to pay more attention.
---
For real-time traffic information including traffic speed, lane and road closures due to construction and maintenance activities, and more, go to http://quickmap.dot.ca.gov/
Follow @SDCaltrans on Twitter at www.twitter.com/SDCaltrans and like Caltrans District 11 on Facebook at www.facebook.com/CaltransDistrict11 for news related to state transportation in San Diego and Imperial counties.