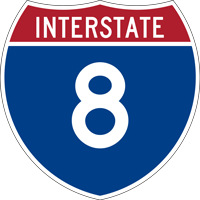 District: District 11 — San Diego and Imperial Counties
Contact: Cathryne.Bruce-Johnson@dot.ca.gov
Phone: (619) 688-6723
EL CENTRO, Calif.—Starting Monday at 7:00 a.m., Caltrans construction crews will reduce traffic to one lane in both directions on Interstate 8 (I-8) just east of State Route 115 (SR-115)/Vanderlinden Road for two miles eastward. Crews will widen freeway shoulders and install temporary railing and crossovers on I-8 just east of SR-115/Vanderlinden Road for approximately one mile.
Motorists on eastbound I-8 will continue to use the westbound lanes of I-8. Motorists traveling westbound I-8 will continue to use the existing detour on Evan Hewes Highway. This traffic switch is anticipated to extend through summer.
Occasional temporary lane and shoulder closures along I-8 will continue near State Route 111 (SR-111) to approximately one mile west of Orchard Road/State Route 7 to complete the work.
Construction on Segment 4 of the I-8 Update Project is anticipated to continue during weekday hours. Construction impacts include slower traffic flow and delays during peak travel times, particularly on Fridays from 3-7 p.m.
The I-8 Update Project is a major pavement rehabilitation project consisting of five segments to construct Continuously Reinforced Concrete Pavement (CRCP) along 48 miles on I-8 in Imperial County. The work will result in a long-lasting superior roadway, capable of withstanding the heaviest traffic loads.
Construction began in 2016 and will be completed in 2019. Three of the five segments, Segments 1, 2 and 3 have been completed. Segments 4 and 5 broke ground in summer 2017. Segment 4 is approximately 15 miles and divided into two smaller sections –the first section beginning just west of SR-111 to just west of Anderholt Road and the second section beginning half a mile east of East Highline Canal Bridge to just west of the junction SR-98/I-8 separation. Segment 5 is approximately seven miles beginning just west of Ogilby Road and ending just west of State Route186. Segment 5 and the first section of Segment 4 achieved substantial completion in 2018. Segments 4 and 5 are anticipated to be completed by the end of the year. The work schedule is subject to change due to traffic incidents, weather, availability of equipment and materials or construction-related issues.
---
For real-time traffic information including traffic speed, lane and road closures due to construction and maintenance activities, and more, go to http://quickmap.dot.ca.gov/
Follow @SDCaltrans on Twitter at www.twitter.com/SDCaltrans and like Caltrans District 11 on Facebook at www.facebook.com/CaltransDistrict11 for news related to state transportation in San Diego and Imperial counties.