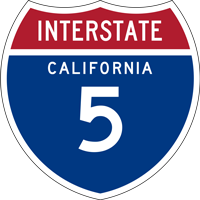 District: District 11 – San Diego and Imperial Counties
Contact: Ed Cartagena
Phone: (619) 688-6723
Contact: Jessica Gonzales
Phone: (619) 699-1950
SAN DIEGO – The California Department of Transportation (Caltrans) announced today that the speed limit along an eight-mile stretch of Interstate 5 (I-5) construction to build new carpool lanes, known as "Build NCC", between Manchester Avenue in the City of Encinitas and Palomar Airport Road in the City of Carlsbad, will be temporarily reduced from 65 miles an hour (mph) to 55 mph. The new speed limit will be in effect Monday, March 11, in both the north and southbound directions, through the project's completion in 2022.
"The speed limit reduction is being enacted to ensure the safety of the traveling public first and foremost. Reducing one's speed to 55 miles per hour (mph) helps reduce the chances of fatal crashes," stated Caltrans Corridor Project Director Allan Kosup, "The speed limit reduction also will ensure the safety of construction and maintenance professionals who work along I-5 each day and night."
Motorists will be alerted to the change in speed limit prior to entering the construction zone, via temporary construction signage along the freeway and at every on-ramp. Electronic speed feedback signs will be placed at various locations along the I-5 work zone to inform the public of their speed in relation to the reduced speed limit.
"The California Highway Patrol (CHP) supports Caltrans in this initiative. Too often, our officers must manage the aftermath of senseless collisions caused by excessive speed," stated CHP Commander Brent Pembleton, "CHP will enforce the new, posted speed limits and motorists are reminded that state law dictates that violations in construction zones can be doubled."
The Build NCC project team, comprised of Caltrans and SANDAG, will be conducting a public awareness and education campaign to ensure the traveling public is aware of the reduced speed limit and enforcement along I-5, as well as resources available to the public in construction zones, such as enhanced Motorist Aid. Motorist Aid provides assistance during daytime weekday and weekend hours to help stranded vehicles get back on the highway. Motorist simply call 511 in San Diego County and say "Roadside Assistance."
State law currently allows Caltrans to reduce speed limits in construction zones. The Build NCC project in the cities of Encinitas and Carlsbad will be the first construction zone in San Diego and Imperial Counties where speeds will be reduced 24 hours a day, 7 days a week. Caltrans intends to expand reduced speed limits to other construction zones in the region where appropriate in the near future. Caltrans also reminds drivers to 'Be Work Zone Alert' by avoiding distracted driving, paying constant attention to traffic, and slowing down when approaching work zones.
About Build NCC
Build NCC is a collaborative effort between Caltrans, SANDAG, and the U.S. Department of Transportation. The first phase of construction began in the cities of Solana Beach, Encinitas, and Carlsbad as part of the North Coast Corridor Program. Build NCC includes extending the existing carpool lane on I-5 in each direction from Lomas Santa Fe Drive to State Route 78, double-tracking the rail line at the San Elijo Lagoon, replacing the highway and rail bridges at the San Elijo Lagoon, restoring the San Elijo Lagoon, and constructing nearly seven miles of new bike and pedestrian trails. Construction on Build NCC began in early 2017 and is expected to be completed by 2022.
To learn more about Build NCC, visit: http://keepsandiegomoving.com/BuildNCC
About Caltrans
Caltrans District 11 serves one of the most geographically and culturally diverse areas in the country and includes San Diego and Imperial counties. It spans the entire California-Mexico Border from the Pacific coast to Arizona and reaches north from the international border to Orange and Riverside counties.
Follow @SDCaltrans on Twitter at www.twitter.com/SDCaltrans and visit Caltrans San Diego on Facebook at www.facebook.com/CaltransDistrict11 for news related to state transportation in San Diego and Imperial counties.
About the California Highway Patrol
The goal of the CHP is to prevent injuries and deaths on the state's roadways. The CHP works with the California Department of Transportation (Caltrans) to ensure highway work zones are as safe as possible. Our officers are actively looking for motorists driving unsafely in highway work zones. Unsafe drivers will be cited by our officers. The CHP shares Caltrans' concern for safety. Unfortunately, we as a Department know all too well the grief of losing employees doing their job on the side of the road. These preventable tragedies underscore the danger everyone who works alongside the roadway faces on a daily basis.
About SANDAG
The San Diego Association of Governments (SANDAG) is the San Diego region's primary public planning, transportation, and research agency, providing the public forum for regional policy decisions about growth, transportation planning and construction, environmental management, housing, open space, energy, public safety, and binational topics. SANDAG is governed by a Board of Directors composed of mayors, council members, and supervisors from each of the region's 18 cities and the county government.
Facebook: SANDAGregion
Twitter: @SANDAG
Youtube: SANDAGregion
Instagram: SANDAGregion