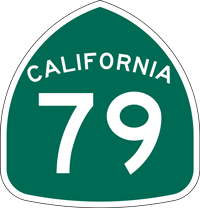 District: District 11 — San Diego and Imperial Counties
Contact: Ed.Cartagena@dot.ca.gov
Phone: (619) 688-6723
SAN DIEGO —Beginning Monday at 6 a.m., State Route 79 (SR-79) will be reduced to one lane at the Buena Vista Creek Bridge located just south of San Felipe Road in Warner Springs and at Some Creek Bridge located about six miles north of Warner Springs for bridge deck improvements and bridge rail replacement, according to Caltrans.
The lane reductions are expected to stay in place for two weeks. Crews will work multiple shifts continuously at both locations.
Personnel will be present to direct traffic through the single open lane at each location when safe to do so.
Signs will be posted ahead of the construction zones to alert motorists to the lane reductions. Motorists are advised to expect traffic delays and to allow addition travel time to reach their destinations.
Caltrans thanks the community for its patience during the construction activities and reminds drivers to 'Be Work Zone Alert' by avoiding distracted driving, paying constant attention to traffic, and slowing down when approaching work zones.
The work is part of the SR-79 Bridge Deck Rehabilitation and Bridge Rail Project for the Buena Vista Creek Bridge and Some Creek Bridge. The $1.2 million project is expected to be completed in May.
---
For real-time traffic information including traffic speed, lane and road closures due to construction and maintenance activities, and more, go to http://quickmap.dot.ca.gov/
Follow @SDCaltrans on Twitter at www.twitter.com/SDCaltrans and like Caltrans District 11 on Facebook at www.facebook.com/CaltransDistrict11 for news related to state transportation in San Diego and Imperial counties.