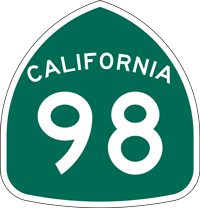 District: District 11 — San Diego and Imperial Counties
Contact: Cathryne.Bruce-Johnson@dot.ca.gov
Phone: (619) 688-6723
EL CENTRO, Calif — State Route 98 (SR-98/Birch Avenue) will be reduced to one lane in each direction at the intersection with Andrade Avenue in Calexico weekdays beginning Wednesday, February 20 through Wednesday February 27 from 4 a.m. to 3 p.m. each day, according to Caltrans. The pavement work will require crews to close Andrade Avenue at the SR-98 (Birch Avenue) intersection during construction hours.
Signs will be posted detouring motorists on eastbound SR-98 (Birch Avenue) to turn right onto Encinas Avenue, then to turn left onto 5th Street to Andrade Avenue.
Motorists on westbound SR-98 (Birch Avenue) will be detoured to turn right onto Rancho Frontera Road, then to turn right onto Holdridge Road to Andrade Avenue.
Construction will move to Encinas Avenue/SR-98 (Birch Avenue) for the first part of March.
Traffic flow is expected to slow through the construction zone and motorists are urged to plan their commutes accordingly. Travelers in the area are reminded to watch for highway workers and construction equipment and to Be Work Zone Alert. The construction zone will be enforced by the California Highway Patrol.
The work schedule is subject to change due to traffic incidents, weather, availability of equipment and materials, or construction-related issues. More information and updates on projects can be found at http://www.dot.ca.gov/d11/projects/ or on Twitter via @SDCaltrans.
This $20 million project is made possible by allocations from the Senate Bill 1 (SB 1), the Road Repair and Accountability Act of 2017. Caltrans is committed to conducting its business in a fully transparent manner and detailing its progress to the public. For complete details on SB 1, visit http://www.rebuildingca.ca.gov/.
---
For real-time traffic information including traffic speed, lane and road closures due to construction and maintenance activities, and more, go to http://quickmap.dot.ca.gov/
Follow @SDCaltrans on Twitter at www.twitter.com/SDCaltrans and like Caltrans District 11 on Facebook at www.facebook.com/CaltransDistrict11 for news related to state transportation in San Diego and Imperial counties.