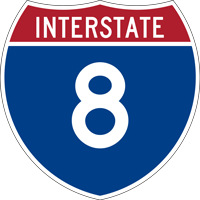 District: District 11 — San Diego and Imperial Counties
Contact: Cathryne.Bruce-Johnson@dot.ca.gov
Phone: (619) 688-6723
SAN DIEGO — Caltrans construction crews will close portions of Interstate 8 (I-8) at two locations Tuesday morning from 12:01 to 4 to replace overhead signs.
The first location is eastbound I-8 from northbound I-5 (I-5) to Hotel Circle Road.
The second location is westbound I-8 from West Mission Bay Drive/Sports Arena Boulevard to Nimitz Boulevard.
Detour for eastbound I-8 at I-5:
Continue eastbound I-8 to southbound I-5 to the Old Town Avenue exit. Turn left onto Old Town Avenue east, then left onto Moore Street north. Follow signs to the northbound I-5 on-ramp and continue to eastbound I-8.
Detour for westbound I-8 at West Mission Bay Drive/Sports Arena Boulevard:
Continue westbound I-8 to West Mission Bay Drive/Sports Arena Boulevard exit. Turn left onto Sports Arena Boulevard, then turn right onto West Point Loma Boulevard south, then turn right onto Nimitz Boulevard north.
The work is part of a county-wide project to install self-reflective signs that use headlights from highway vehicles to illuminate the sign. The new signs will enhance nighttime visibility and will replace signs requiring light fixtures to light up the signs. Caltrans engineers estimate that the new signs will reduce electrical use by seven percent.
---
For real-time traffic information including traffic speed, lane and road closures due to construction and maintenance activities, and more, go to http://quickmap.dot.ca.gov/
Follow @SDCaltrans on Twitter and like Caltrans District 11 on Facebook at www.facebook.com/CaltransDistrict11 for news related to state transportation in San Diego and Imperial counties.