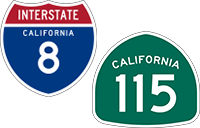 District: District 11 — San Diego and Imperial Counties
Contact: Carmen.Sandoval@dot.ca.gov
Phone: (619) 688-6670
EL CENTRO, Calif. — Starting January 10, Caltrans construction crews will redirect both eastbound lanes of Interstate 8 (I-8) on to the westbound lanes of I-8 from approximately two miles east of State Route 115/Van Der Linden Road to just west of State Route 98 for pavement construction. Motorists on westbound lanes in this section of I-8 will continue to use the existing detour on Evan Hewes Highway. This traffic switch is anticipated to be in place through summer 2019.
Some occasional temporary lane and shoulder closures along I-8 will occur from approximately State Route 111 to approximately one mile west of Orchard Road/State Route 7 to complete the work.
Construction activities for Segment 4 are anticipated to continue with much of the road work being conducted during the day. Construction impacts include slower traffic flow and delays during peak travel times, particularly on Fridays from 3-7 p.m.
The I-8 Update Project is a major pavement rehabilitation project consisting of five segments that will construct Continuously Reinforced Concrete Pavement (CRCP) along 48 miles on I-8 in Imperial County. The work will result in a long-lasting superior roadway, capable of withstanding the heaviest traffic loads.
Construction began in 2016. Segments 1, 2 and 3 have been completed. Segments 4 and 5 began in 2017. Segment 5 and the first section of Segment 4 achieved substantial completion in 2018 and both are anticipated to be completed later this year.
---
For real-time traffic information including traffic speed, lane and road closures due to construction and maintenance activities, and more, go to http://quickmap.dot.ca.gov/
Follow @SDCaltrans on Twitter and like Caltrans District 11 on Facebook at www.facebook.com/CaltransDistrict11 for news related to state transportation in San Diego and Imperial counties.