Project Update - September 9, 2019
Niland Geyser Information Update - 09/09/2019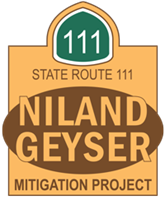 Monday, September 9, 2019
Greetings!
Thank you for continuing to share updates about the State Route 111 (SR-111) Niland Geyser Mitigation Project with other community members.
Construction crews will extend one-way traffic control on SR-111 at Davis/Gillespie roads continuously through Wednesday, at 6 p.m. for pile driving activities.
More updates will be shared as information becomes available.
Caltrans staff thanks community members and motorists for their patience for any delays and inconvenience during construction.
For more information or to receive project construction alerts, contact the Caltrans Public Information Office at (619) 688-6670 or by email to CT.Public.Information.D11@dot.ca.gov.
Here is a link to a project webpage to find updates, maps and images of the work:
https://dot.ca.gov/caltrans-near-me/district-11/district-11-current-projects/SR-111-Niland-Geyser-Mitigation-Project
Kind regards,
Cathryne
______________________________________________________________
CATHRYNE BRUCE-JOHNSON | Public Information Officer
Caltrans District 11 | 4050 Taylor Street - MS 121 | San Diego, CA 92110
Office: 619.688.6670 | Cell: 619.871.6716
Project Update - September 9, 2019