I-8 Pavement Replacement and Road Improvements Project
I-8 Pavement Replacement and Road Improvements Project from Viejas Creek to Pine Valley Creek
Introduction
This project will extend the service life of this section of Interstate 8 in East County by replacing aged pavement, installing fiber optic cable to provide internet service for all Californians and other road-enhancing features. The result will give all motorists a smoother ride, support efficient goods movement and internet connectivity, and reduce future maintenance and construction efforts. By doing so, safety will improve for both motorists and highway workers.
Extending the service life
The I-8 Pavement Replacement Project will replace pavement in the eastbound lanes between Viejas Creek in the town of Alpine and Pine Valley bridge, an unincorporated area of San Diego County. The pavement replacement includes new concrete for the Number 3 lane and the outside shoulder and spot locations on the Number 1 lane with individual slab replacement. Number 2 lane will be replaced from west of Vista point to west of Pine Valley bridge. New asphalt segments for the inside shoulder will also be added in the eastbound direction. This road replacement will significantly extend the pavement's service life and reduce the maintenance service needed.
Improving the Roadway with CRCP
The project will construct Continuously Reinforced Concrete Pavement (CRCP), providing a superior, long-lasting roadway to reduce maintenance and construction efforts in the future, thereby reducing impacts on the traveling public and exposure for highway workers. In addition, drainage systems will be upgraded, including water quality improvements, and several bridges will be rehabbed.
Phased Approach
This project will be split into five phases, beginning in September 2022, and lasting through March 2024.
Construction on the first phase has already begun and is expected to be completed by December 2022. The eastbound I-8 bicycle lane will also be closed during the project for the safety of bicyclists, drivers, and highway workers. Shuttle transportation will be provided for bicyclists from East Willows Road to the State Route 79 (SR-79)/ Japatul Valley Road Park and Ride.
At the conclusion of the work, motorists will see and feel an improvement in ride quality and benefit from the extension of the service life of the roadway.
Continuously Reinforced Concrete Pavement (CRCP) is constructed with steel reinforcing bars placed within the concrete along the entire length of the pavement. CRCP naturally forms tight transverse cracks to transfer loads evenly.
The result is a continuous, smooth-riding surface capable of withstanding the heaviest traffic loads and the most adverse environmental conditions. The life span for CRCP pavement may be up to 70 years, far exceeding existing road surfaces.
Funding
The project cost is $46.6 million, with $42 million coming from the federal government and $4.6 million from the Road Maintenance and Rehabilitation Account created under voter-approved Senate Bill 1 (SB 1).
What's ahead?
The average traffic volume within the 10-mile project limits is approximately 100,500 vehicles per day. Segments of I-8 will be reduced to one lane during the construction of CRCP for extended periods. Specific stretches of I-8 will be fully open as work progresses to alleviate traffic congestion. CRCP construction will occur behind concrete barriers to expedite construction and protect construction crews, with expected delays. Some on-and off-ramps within the project limits may be closed during the project duration. To minimize the impact of the daily commute, consecutive ramps will not be closed simultaneously.
Caltrans will reach out to residents, local tribal communities, businesses, schools, and community groups in the region. Our goal is to provide project updates, notification of possible impacts, and a method to contact us with questions or concerns.
Safety
Safety for the traveling public, including safety and protection for highway workers, is priority number one for Caltrans.
The following safety features are included in the construction of this project
Construction work zone speed limit reduction to 55 MPH
Advanced warning traffic signs
A reinforced concrete barrier that separates traffic from roadway workers and equipment
California Highway Patrol and freeway service patrol, i.e., tow service to monitor the work zone daily
As of March 2023, on-call Tow Truck Service (619) 478-5616
Bicycle Construction Impact
NEED A RIDE:
Sea Breeze Shuttle | Call 619. 971-1295
(7 days a week from 8 a.m. to 4 p.m.)
*Wait time could be up to 45 minutes. Call ahead.
Caltrans is providing a bicycle shuttle service on eastbound I-8 from E Willows Road (near Viejas) to the Japatul Park & Ride due to an ongoing road repair and bridge replacement project. The service begins Monday, February 6, and is expected to continue through the end of November 2023. Bicyclists need to call 619-971-1295 (Monday through Sunday from 8 AM to 4 PM) for service. Westbound travel will not be impacted. Bicyclists must follow the rules of the road and are not permitted to ride in the wrong direction (as codified in CVC 21200). Shuttles are ADA Compliant.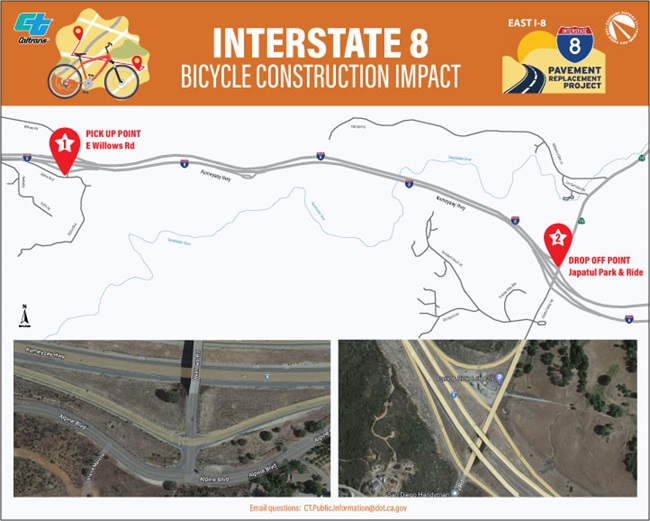 I-8 Road Repair and Bridge Replacement construction began in July 2022 on a two-year road repair and bridge replacement project on eastbound I-8 from E Willows Road (near Viejas) to the Japatul Park & Ride. The result of this project will cause a nearly 11-month closure of the eastbound shoulder within the project limits. In order to accommodate bicyclists on the route, a shuttle service provider Sea Breeze Shuttle will provide cyclists with a complimentary shuttle to take them from Viejas Creek Bridge to the Japatul Park & Ride.
Timeline
Stage 1
Completed January 2023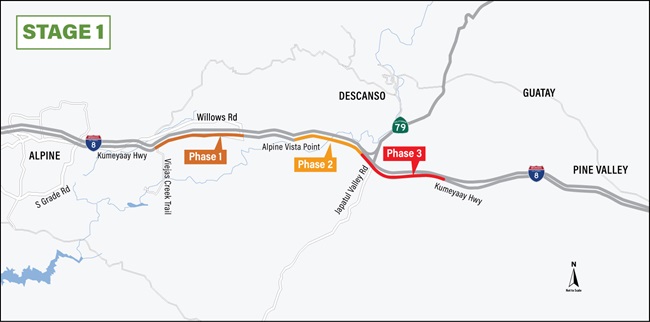 Phase 1 and 2
Bridge improvements at Sweetwater, Japatul Valley, and Horsethief Bridges
Departure Slabs for two lanes at Viejas Creek Bridge, Approach and Departure Slabs at Sweetwater, Japatul Valley, and Horsethief bridges
Individual Slab Replacements in the left and middle lanes
Water Pollution Control Stormwater Filtering Systems
CRCP 1000' on each side of Sweetwater, Japatul Valley, and Horsethief bridges
Stage 2
February 2023 – December 2023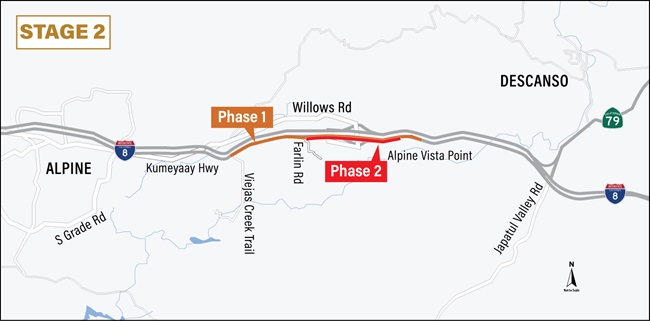 Phase 1
CRCP installation on lane 3 and outside shoulder
Drainage improvements
Bridge repair work
Phase 2
Lane 2 improvements: CRCP installation
Phase 3
Bridge repair work
CRCP installation
Phase 4
Horse Thief Bridge: demolition of the asphalt on lanes 1 and 2 and replacement with CRCP
Stage 3
July – December 2023
Drainage systems improvement on lane 2
Phase 1
Lane 2 improvements: replacing asphalt with CRCP
Sweetwater Creek Bridge improvements: Drainage and water quality improvements.
Phase 2
CRCP installation on the number 2 and 3 lanes
Phase 3
Las Blancas Bridge:
Rehabilitation work
Demolition of the asphalt on lanes 1 and 2
Replacement with CRCP
Phase 4
Pine Valley bridge rehabilitation and other improvements
Stage 4
Summer 2023 – Winter 2024
Lane 2 improvement
Bridge rehabilitation
Phase 1
Lane 2 improvement projects and bridge rehabilitation at Horse Thief bridge, Las Blancas bridge, and Pine Valley Creek bridge
Replace CRCP and striping
New shoulder pavement
Stage 5
Winter 2024
Final touchups
Phase 1
Final striping
Clean-up
Removal of construction equipment