San Diego – Coronado Bay Bridge Suicide Deterrent Project
San Diego – Coronado Bay Bridge Suicide Deterrent Project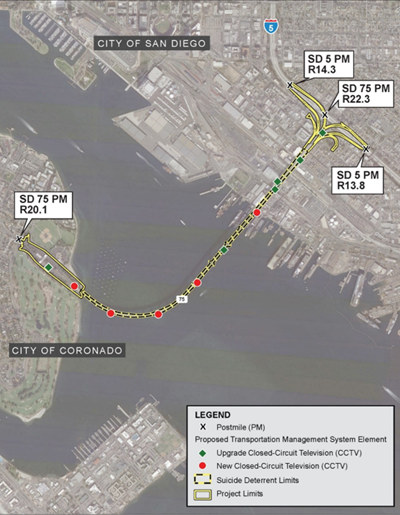 Final Environmental Document
You can view the Final Initial Study with Mitigated Negative Declaration (IS/MND) and Response to Comments online here.
San Diego – Coronado Bay Bridge Suicide Deterrent Project Public Review Meeting
Project Purpose and Need
The purpose of the proposed project is to install a suicide deterrence system in the most timely manner to reduce suicides and suicide attempts as soon as is practicable while also reducing closures of the Bridge due to these events.
Although official figures have not been maintained since its opening in 1969, it is widely believed that approximately 400 deaths by suicide have occurred from the Bridge on SR-75. Per the San Diego County Medical Examiner's Website, 18 fatalities occurred in 2017, 17 fatalities in 2018, and 15 fatalities in 2019. After the Golden Gate Bridge, it is recognized as the second most frequently used bridge for suicide in the state. The Bridge does not have a permanent physical suicide deterrent system. The standard operating procedure for suicide attempts is the closure of the Bridge.
The Bridge has the highest concentration of fatalities for a spot location on the state highway system in Caltrans' District 11 (San Diego and Imperial Counties) due to deaths by suicide. Fatalities caused by suicide do not qualify under the current Highway Safety Improvement Program (HSIP) criteria; therefore, suicide deterrent projects are not eligible for HSIP funding.
The existing TMS elements on the Bridge consist of six closed-circuit television (CCTV) cameras controlled exclusively by California Highway Patrol (CHP) staff stationed at the Bridge Glorietta Toll Plaza in Coronado. When CHP staff is not available at the Glorietta Toll Plaza, the CCTV cameras cannot be repositioned and are no longer adequate for monitoring activity on the Bridge. In addition, existing camera locations do not provide full coverage of the Bridge and surrounding areas.
Non-physical suicide deterrence measures have been implemented on the bridge along with the addition of 4-inch spikes, which were installed on top of the bridge rail in early 2019 as an interim measure. Notwithstanding these efforts, multiple suicides and suicide attempts have still occurred from the Bridge. Many of these have resulted in complete closure of the Bridge, sometimes for hours, requiring those traveling to or from Coronado Island, Naval Air Station North Island, and the Naval Amphibious Base, to reroute by way of the Silver Strand. This 23-mile detour could add 30 to 60 minutes of travel time per vehicle per incident. SR-75 is part of the Strategic Highway Network, which provides defense access, continuity, and emergency capabilities for the movement of personnel and equipment in both peace and war times.
Project Description
The project proposes to install a physical suicide deterrent on the Bridge in San Diego County. The project also proposes to install minor improvements to the Transportation Management System (TMS) elements at the Glorietta Toll Plaza, the Bridge, and the Interstate 5/State Route 75 Interchange.
Contact
For questions, please contact us at D11.CoronadoBridge.ED@dot.ca.gov