Highway 26/49 Intersection Control Improvement Project
Highway 26/49 Intersection Control Improvement Project
To attend the September 28, 2021 Virtual Public Meeting, please click the following link:
Project Facts
Description
The California Department of Transportation (Caltrans) proposes to improve the safety of the intersection at State Route 26 and State Route 49 in Calaveras County in the town of Mokelumne Hill. A Traffic Collision Report from the California Highway Patrol and a Traffic Investigation conducted by the District 10 Traffic Safety Branch identified a pattern of broadside collisions at this intersection. A Traffic Signal Warrant Analysis was performed, and the results found the intersection meets signal warrants. Three alternatives are being proposed. Alternative 1 proposes to construct a roundabout, Alternative 2 proposes to install a traffic signal, and Alternative 3 is the no-build option leaving the intersection as it is.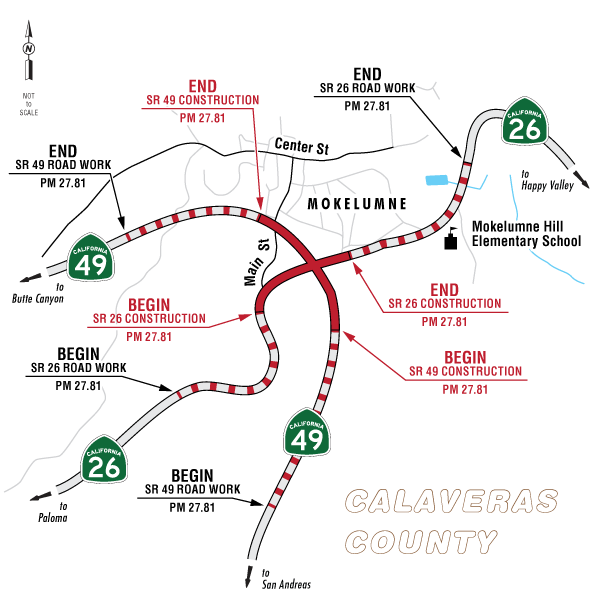 Project Benefits
Purpose
The purpose of this project is to improve intersection control to reduce the number and severity of broadside collisions at the intersection of State Route 26 and State Route 49.
Need
A pattern of broadside collisions has been identified at the intersection of State Route 26 and State Route 49, caused by motorists failing to yield.
Estimated Funding Breakdown
| Funding Source | Funding Amount |
| --- | --- |
| Local | Not Available |
| State | Not Available |
| Federal | Not Available |
| Construction Cost | Alternative 1 Roundabout: $10,450,900; Alternative 2 Signal: $4,822,200 |
Proposed Project Schedule
| Process | Date |
| --- | --- |
| Final environmental document to be completed | October 2022 |
| Right-of-way acquisition to be completed | June 2024 |
| Design to be completed | June 2024 |
| Advertise | December 2024 |
| Construction to begin | May 2025 |
| Construction to be completed | November 2025 |
Project Contact
Parisa Lodge, Project Manager
Phone: (209) 948-3612
Email: parisa.lodge@dot.ca.gov
Jaycee Azevedo, Senior Environmental Planner
Phone: (209) 992-9824
Email: jaycee.azevedo@dot.ca.gov
Bob Highfill, Public Information Officer
Phone: (209) 986-9428
Email: bob.highfill@dot.ca.gov