Pudding Creek Bridge Widening & Rail Upgrade
Pudding Creek Bridge Widening & Rail Upgrade
The Project

Caltrans proposes to rehabilitate the existing Pudding Creek Bridge (Caltrans Bridge 10-0158) on State Route 1 (SR1) in Fort Bragg in Mendocino County (post miles 61.9).
Project Benefit
The purpose of the project is to improve safety for motorists, bicyclists, and pedestrians. The project includes widening the bridge to accommodate two 12-foot-wide lanes, two 8-foot-wide shoulders, two 6-foot walkways and new bridge railings to meet current standards.
The project includes
The project includes "Complete Streets" improvements by constructing sidewalks on both sides of SR 1 from Pudding Creek Bridge south to Elm Street and north to Pudding Creek Drive. The project also includes drainage improvements and relocation of the City of Fort Bragg's waterline from the Pudding Creek Dam to SR 1.
Traffic Impacts
Full nighttime closures on Route 1 at the north end of Fort Bragg at the Pudding Creek Bridge are scheduled for Wednesday, Sept. 6, and Thursday, Sept. 7, from 10 p.m. to 4 a.m. Construction will escort emergency responders over the bridge during the full closures.
Two nights from September 6-7
One-way traffic control at the Pudding Creek Bridge will be in effect Sept. 5-8, from 7 a.m. to 4 p.m. Motorists can expect up to 10-minute delays.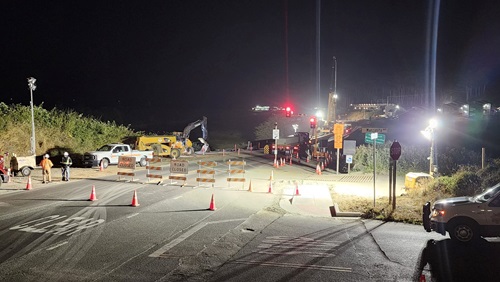 (Nighttime full closure July 18, 2023)
Current Project Schedule
Begin Construction: Summer 2023

Documents
Accessibility Assistance: Caltrans makes every attempt to ensure our documents are accessible. Due to variances between assistive technologies, there may be portions of this document which are not accessible. Where documents cannot be made accessible, we are committed to providing alternative access to the content. Should you need additional assistance, please contact us at (916) 654-2852 (and/or a division contact) or visit https://dot.ca.gov/request-ada-compliant-documents.
Contact Information
Project Manager:
(530) 821-8373
Public Information Officer (Media Inquiries):
707-496-6879, TTY 711
Follow Caltrans District 1 on Facebook and Twitter.
Last reviewed: August 2023
Pudding Creek Bridge Widening & Rail Upgrade Project - Simulations of Proposed Designs
Public Meeting
Caltrans hosted a virtual public meeting May 31, 2023, to inform the public about potential construction and traffic impacts of the Pudding Creek Bridge Widening and Rail Upgrade Project. Click on the thumbnail to view.