Hare Creek Bridge Rehabilitation Project
Hare Creek Bridge Rehabilitation Project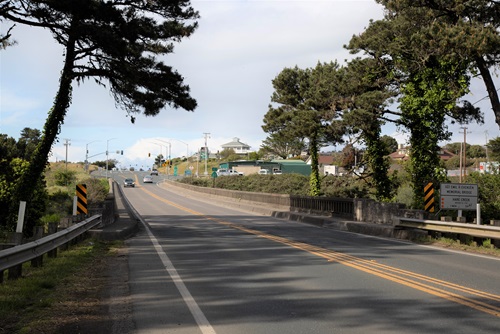 The California Department of Transportation (Caltrans) proposes to widen, retrofit and rehabilitate the existing Hare Creek Bridge (Bridge # 10-0175) located on State Route 1 in Fort Bragg, in Mendocino County (post miles 59.70).
The purpose of the project is to bring Hare Creek Bridge up to current design standards by widening the existing structure and upgrading bridge rails. The existing bridge will also be seismically retrofitted and rehabilitated.
Project Description
The project will widen the existing Hare Creek Bridge by approximately 17 feet to accommodate two 12-foot wide lanes, two 8-foot wide shoulders and a 6-foot wide separated pedestrian walkway on the west side of the widened structure. The existing bridge rails and approach guard rail will be upgraded to current standards.
Project Timeline
Begin Construction: Spring 2025
Budget Estimates
Total estimated construction cost: $23,667,000
Contact Information
Project Manager: Jeff Pimentel
Media Inquiries: Manny Machado, (707) 496-6879, TTY 711
Email: harecreekbridge@dot.ca.gov