South Broadway Complete Streets
South Broadway Complete Streets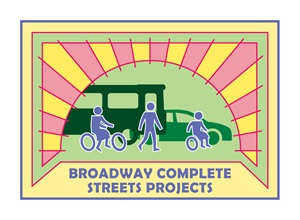 Project Description
This project is proposed along US-101/South Broadway in Eureka, CA to increase comfort and safety for non-motorized users and to provide better connectivity between neighborhoods and the Waterfront Trail.
The project includes:
Class IV separated bikeways on Broadway from the Papa & Barkley Co. signalized intersection to the Truesdale Street intersection. Class IV separated bikeways have vertical barrier such as curbs or posts between the bicyclists and vehicles. In some narrow parts, only class II bike lanes or class III shared facilities will fit. Caltrans is seeking input from the City of Eureka and community members to decide the type of barrier for the class IV bikeways.
Use of "armadillos" in Fremont, CA - Photo source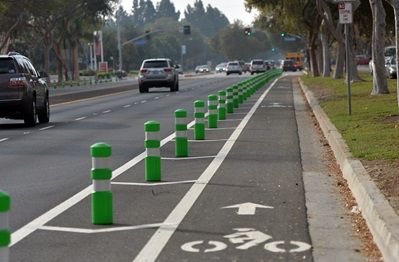 Use of K-71 posts in Long Beach, CA - Photo source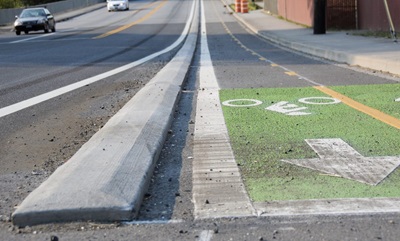 Use of a raised curb in Portland, OR - Photo source
Two new pedestrian crossings near Hilfiker Lane and Truesdale Street/Highland Avenue.
Sidewalk and curb ramp improvements where needed.
Two new bus stops and existing bus stop upgrades.
Pedestrian and bicycle improvements at existing signalized intersections.
Making improvements to South Broadway has been a high priority of the region for many years, and is supported by the City of Eureka, the Humboldt County Association of Governments (HCAOG), other stakeholders—such as civic organizations, businesses, Humboldt Transit Authority, the public health department, active transportation advocates, environmental organizations, and disability rights groups—and the public.
HCAOG, the City of Eureka, and Caltrans recently completed the Eureka Broadway Multimodal Corridor Plan, funded by a Caltrans planning grant. This project will implement the preferred concept for the southern segment identified in the plan. The full Eureka Broadway Multimodal Corridor Plan can be accessed online at hcaog.net/sites/default/files/eureka_broadway_multimodal_corridor_final_report.pdf.
Click Image for project map
Timeline
At this time, construction is anticipated to begin in 2025.
Documents
Accessibility Assistance: Caltrans makes every attempt to ensure our documents are accessible. Due to variances between assistive technologies, there may be portions of this document which are not accessible. Where documents cannot be made accessible, we are committed to providing alternative access to the content. Should you need additional assistance, please contact us at (916) 654-2852 (and/or a division contact) or visit https://dot.ca.gov/request-ada-compliant-documents.
How to get involved
Tell us about your project priorities by completing our online survey. Your feedback is important and will inform the project team on what to study in the South Broadway area: https://forms.gle/agy1ZuV3GE5Y8FTs6
Receive updates
A Public Engagement Plan will be developed to identify public engagement goals, methods, and schedule throughout the project development process.
Contact Information
Project Manager: Jeff Pimentel, (707) 834-9529
Public Information Officer: Myles Cochrane, (707) 498-4272
Email: southbroadwaycompletestreets@dot.ca.gov
Last reviewed: October 2022