Albion River Bridge
Albion River Bridge Replacement/Rehabilitation Project

The Project
The California Department of Transportation (Caltrans) in cooperation with the Federal Highway Administration (FHWA) is initiating an Environmental Impact Statement (EIS) for the proposed Albion River Bridge Replacement/Rehabilitation Project in Mendocino County in California. The Project is located on State Route 1 from post mile 43.3 to 44.2.
Project Alternatives
A reasonable range of alternatives for detailed study in the Draft EIS (DEIS) is currently being considered. In addition to the No Action Alternative, potential project alternatives include bridge replacement and bridge rehabilitation.
The No Action Alternative assumes no improvements other than those implemented as part of routine maintenance.
The Bridge Replacement Alternatives would replace the existing Albion River Bridge with a new bridge. Various bridge replacement concepts will be considered during the scoping process, including a west alignment constructed to the west of the existing bridge, an east alignment constructed to the east of the existing bridge, and on-alignment constructed slightly west of the existing alignment.
The Bridge Rehabilitation Alternatives would require major work to extend the service-life of the existing Albion River Bridge. The Bridge Rehabilitation Alternatives would include rehabilitation of the bridge for motor vehicle use by widening the bridge and upgrading the bridge rails, or rehabilitation of the bridge as a pedestrian-only bridge alongside one of the bridge replacement alternatives. The operability of the bridge would need to be maintained while addressing structural deficiencies, geometric deficiencies, and operational reliability of the bridge.
Project Benefits
Addressing the structural and seismic deficiencies of the bridge and approach roadways, will ensure uninterrupted traffic movement on SR 1
Providing wider shoulders on roadway approaches and bridge deck
Improving safety and access for bicyclists and pedestrians
Reducing maintenance costs
Minimizing traffic delays associated with bridge inspection, maintenance and repairs
Project Schedule
Notice of Intent: April 15, 2022
30-day Public Comment Period: April 15-May 20, 2022
Public Scoping Meeting: May 5, 2022
Circulation of Draft Environmental Document (DED): August 2023
Project Approval & Final Environmental Document (PA&ED): August 2024
Plans & Estimate: June 2026
Right of Way Certification (RWC): August 2026
Contract Advertisement: November 2026
Contract Award: January 2027
Begin Construction: May 2027
Construction Contract Acceptance: October 2031
Project Funding Estimates
Right of Way Capital:

$8,465K

Construction Capital:

$65,873K
Environmental Scoping Process
Scoping is the process used to determine the appropriate contents of an Environmental Impact Statement (EIS). Public participation is an integral part of scoping. The first scoping step was to announce to the public, by a Federal Register Notice of Intent (NOI) and press releases, that an EIS will be prepared and to ask for comments about what should be included. This initiated the 30-day public comment period, April 15-May 20, 2022. The NOI is linked in the list below.
Documents
Accessibility Assistance: Caltrans makes every attempt to ensure our documents are accessible. Due to variances between assistive technologies, there may be portions of this document which are not accessible. Where documents cannot be made accessible, we are committed to providing alternative access to the content. Should you need additional assistance, please contact us at 1-916-654-2852 (and/or a division contact) or visit https://dot.ca.gov/request-ada-compliant-documents.
Press Releases
Receive Updates
For more information, contact:
Project Manager: Jaime Matteoli
Public Information Officer: Manny Machado
Email: albionbridge@dot.ca.gov
Phone: 1-707-441-5672
Last reviewed: December 2022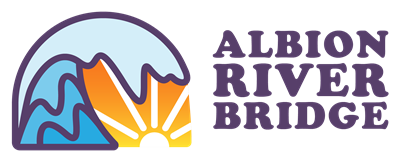 ---
(Albion River Bridge: Current)
View the Virtual Public Scoping Meeting
Caltrans District 1 hosted a public scoping meeting on May 5, 2022, to facilitate the submission of formal comments and share information about the environmental review process and the overall project. View a recording of the meeting by clicking on the video below.