Development of an Aesthetic / Low Maintenance Guardrail System
Development of an Aesthetic / Low Maintenance Guardrail System
Background
Standard metal beam guardrail (MBGR) is very expensive to maintain in locations with frequent vehicle impacts. In addition, local communities and agencies are increasingly demanding that Caltrans build highway projects that include roadside barriers with an aesthetic appearance not provided by the standard W-beam guardrail. Some highway construction projects are actually delayed because the barriers are not acceptable enough in appearance. Most aesthetic barriers are proprietary, expensive to build, and expensive to maintain. Caltrans is developing an aesthetic low maintenance guardrail (ALMGR) that requires little maintenance and is aesthetically acceptable.
Objective
The objective of this research is to develop and test new guardrail systems to the American Association of State Highway and Transportation Officials' (AASHTO's) Manual for Assessing Safety Hardware (MASH) Test Level 3 (TL-3) full scale crash testing guidelines. The guardrail system will meet California's need for an aesthetically pleasing guardrail and be able to sustain vehicular impacts with minimal or no damage. It will have a relatively low life cycle cost, contain a minimum number of parts for maintenance stations to stock, and be easy to repair or replace if required. This research was divided into three phases. The first phase was to develop and test a concrete footing that can be combined with aesthetically pleasing bridge rail for use as a guardrail system. The second phase will be to design and develop a new guardrail system to meet California's needs as expressed above. The third phase will be to fabricate and test the new guardrail system developed in the second phase.
Phase 1: Development of Aesthetic, Low-Maintenance Guardrail System Alternatives
On October 16, 2013 the Roadside Safety Research Group (RSRG) conducted a MASH 3-11 test on the ST-10 bridge rail mounted on a 30 inch (762 mm) deep by 20 inch (508 mm) wide concrete trench footing foundation. In an effort to create the worst case installation the barrier was installed in a weak soil with a 3 to 1 slope cut out behind the barrier. The slope starts 3 feet (914 mm) from the back edge of the barrier's concrete footing and has a depth equal to the depth of the footing. The footing was poured in two parts; the first pour was the footing and the second was the 6 inch (152 mm) curb. These two pours created a cold construction joint between the footing and the curb. The vehicle was a 2006 Dodge Ram 1500 Quad Cab pickup truck and it impacted the barrier at a speed of 62.0 mph (99.8 km/h) and an angle of 24.7 degrees.
The combination of the ST‐10 bridge rail and trench footing redirected the test vehicle with minimal movement to the foundation. However, after losing contact with the barrier, the vehicle rolled onto its side. Although this combination failed MASH's evaluation criteria (criterion F), the trench footing functioned as intended. Therefore, this trench footing is recommended for use with any bridge rail designs that have either NCHRP Report 350's or MASH's Test Level 3 or Level 4 criteria. These rail/footing combinations may be considered for use on California's roadways as TL‐3 guardrail.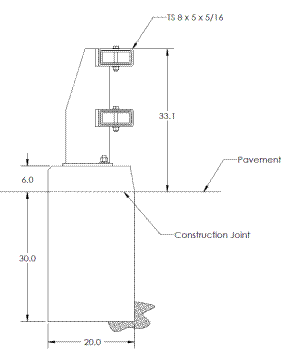 View Of Article Before Testing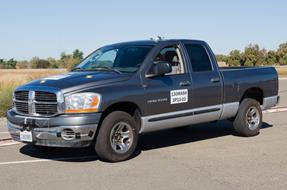 Test Vehicle Before Test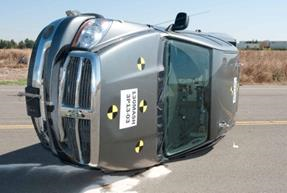 Final Location of Vehicle After Test
Damage To Test Article
Vehicle Impacting Test Article
Damage To Vehicle