California Type 85 Concrete Post and Beam Bridge Rail
California Type 85 Concrete Post and Beam Bridge Rail
Background
The Type 80 bridge rail is an existing design that has been built on numerous bridges throughout California, providing adequate service. It is an aesthetic, see-through barrier rail typically used to enhance the visual appearance of safety hardware at site-specific locations. A taller version called the Type 85 has been designed in order to meet Manual for Assessing Safety Hardware (MASH) 2016 guidelines. Caltrans plans to test this new design to comply with both Caltrans' design standards and the MASH 2016 implementation agreement. This will provide a needed product that meets the most current crash test standards and is eligible for Federal Aid. MASH Test Level 4 criteria for "Longitudinal Barriers" comprising of tests 4-10, 4-11, and 4-12 will be used for this project.
Development of the Type 85 Bridge Rail
Notable design differences between the Type 80 and Type 85 Bridge Rails include:
Increased capacity for MASH impact loads.
Deeper post offset from 4 inches to 8 inches to reduce the chance of wheel snag on a post.
Increased curb height from 9 inches to 12 inches to reduce wheel snag.
Increased view through rail with larger vertical space between curb to bottom of beam section from 11 inches to 12 inches at the curb face.
Sloped top of curb to increase view through the bridge rail and reduce icing on bridge decks by draining snowmelt.
Increased rail height from 32 inches to 36 inches to improve the stability of vehicle impacting the barrier, reduce excessive vehicle roll, or prevent vehicle from going over the rail.
A typical cross-section of the California Type 85 Bridge Rail is shown in Figure 1.
A 103 ft. test section of the bridge rail was constructed at the Caltrans Dynamic Test Facility. The barrier was constructed in separate concrete pours for the anchor block, deck, curb and posts/beam.
Anchor Block Construction
Post Close-up
Curb Concrete Pour and Post and Rail Rebar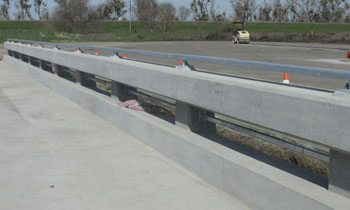 Completed Barrier
LSDyna Finite Element Simulations
Finite element simulations were completed to evaluate wheel snag potential. The simulations indicate the wheel does not penetrate deep enough to snag on the bridge rail posts. These simulations have not been validated and may not accurately represent vehicle or barrier behavior.
Impact Conditions
Test 110MASH4C18-01 (MASH Test 4-10) [Testing results are being evaluated for MASH Compliance]
Vehicle: 2012 Nissan Versa
Impact Speed: 58.1 mph (93.5 km/h); NOTE: 1.6 mph (2.5 km/h) below MASH tolerance
Impact Angle: 25.3°
High Speed Crash Test Video
Test 110MASH4C18-01
Action Camera Crash Test Video
Test 110MASH4C18-01
Related Documents
Contact Information