Type 732SW Bridge Rail (Modified version of the Type 26 Bridge Rail)
Type 732SW Bridge Rail (Modified version of the Type 26 Bridge Rail)
Background
The Type 26 bridge rail is an existing cost effective barrier design that has been built on numerous bridges throughout the state providing adequate service. The bridge rail is a vertical, reinforced concrete wall on a sidewalk with a pedestrian steel tubular handrail or chain link fence on top and is usually constructed on routes with pedestrian walkways and posted speed limits of 45 mph or less. Although it is expected to meet safety requirements, it has never been crash tested. A crash-testing project for the Type 26 was initiated in the early 2000s but was modified to crash test the ST-20- bridge rail because of pending projects requiring see-through features. When the project was restarted, a taller, stronger, version of the Type 26 with a sidewalk was developed to be crash tested according the Manual for Assessing Safety Hardware (MASH) guidelines. This new version was named the Type 732SW.
Development of the Type 732SW
The Type 732SW bridge rail was designed by the California Department of Transportation's Division of Engineering Services. A typical cross-section is shown in Figure 1.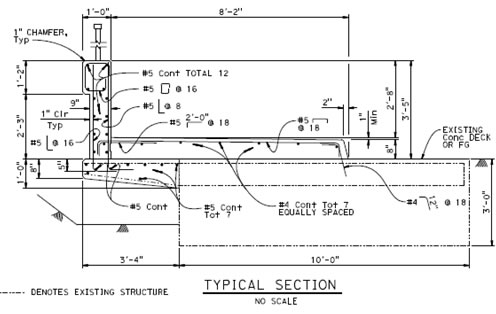 An 80 ft. test section of the bridge rail was constructed at the Caltrans Dynamic Test Facility. One expansion joint was placed in the barrier and sidewalk 48 ft. from the downstream end. An expansion joint was also placed in the steel handrail 7.5 inches downstream of the concrete expansion joint. The overhang, concrete parapet, and sidewalk were constructed in three separate concrete pours with #16 (metric) and #5 rebar for anchoring. All rebar had a yield-strength of 60 ksi. Concrete from all three pours had a minimum 28-day compressive strength of 4,000 psi.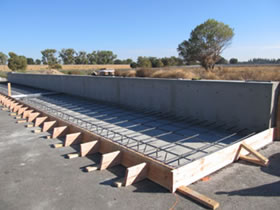 Concrete Pour
Concrete Barrier End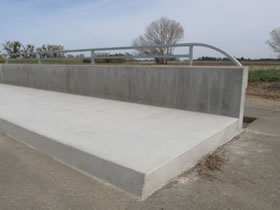 Close-up of Barrier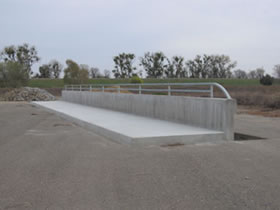 Completed Barrier
Impact Conditions
Test 130MASH3P13-01 (MASH 2009 Test Level 3)
Vehicle: 2006 Dodge Ram 1500
Impact Speed: 62.7 mph (100.9 kph)
Impact Angle: 24.8°


Test 130MASH3C13-02 (MASH 2009 Test Level 3)
Vehicle: 2006 Kia Rio
Impact Speed: 59.8 mph (96.3 kph)
Impact Angle: 25.3°


Test 110MASH2C14-01 (MASH 2009 Test Level 2)
Vehicle: 2006 Kia Rio
Impact Speed: 44.1 mph (71.0 kph)
Impact Angle: 24.3°
High-speed Crash Test Videos
These videos will be made available soon.
Related Documents
Contact Information