Reconnecting Communities: Highways to Boulevards
Reconnecting Communities: Highways to Boulevards
Converting underutilized highways to restore community connectivity

San Francisco Embarcadero Freeway in 1989

San Francisco Embarcadero Freeway in 2015
In response to the adoption of Streets & Highways Code 104.3, the California Department of Transportation (Caltrans) is launching the Reconnecting Communities: Highways to Boulevards (RC:H2B) Pilot Program. $149 million was established in the FY 22/23 State Budget to plan for and fund the conversion of key underutilized highways in the State into multi-modal corridors to reconnect communities divided by transportation infrastructure. These legacy impacts will be addressed through community-based transportation planning, design, demolition, and/or reconstruction of city streets, parks, or other infrastructure.
Goals
Restore community connectivity through the removal, retrofit, mitigation, or replacement of eligible transportation infrastructure facilities that create barriers to mobility, access, or economic development.
Provide matching funding for potential federal grant funds.
Advance health and equity outcomes for underserved communities by removing health, safety, and access barriers associated with transportation infrastructure within communities.
Improve access to opportunity by improving travel options and reducing combined household transportation and housing costs for underserved communities.
Create opportunities for implementation of affordable housing and furthering the advancement of fair housing.
Prevent or minimize direct and indirect displacement effects from project implementation.
Advance community-based or community-driven transportation planning.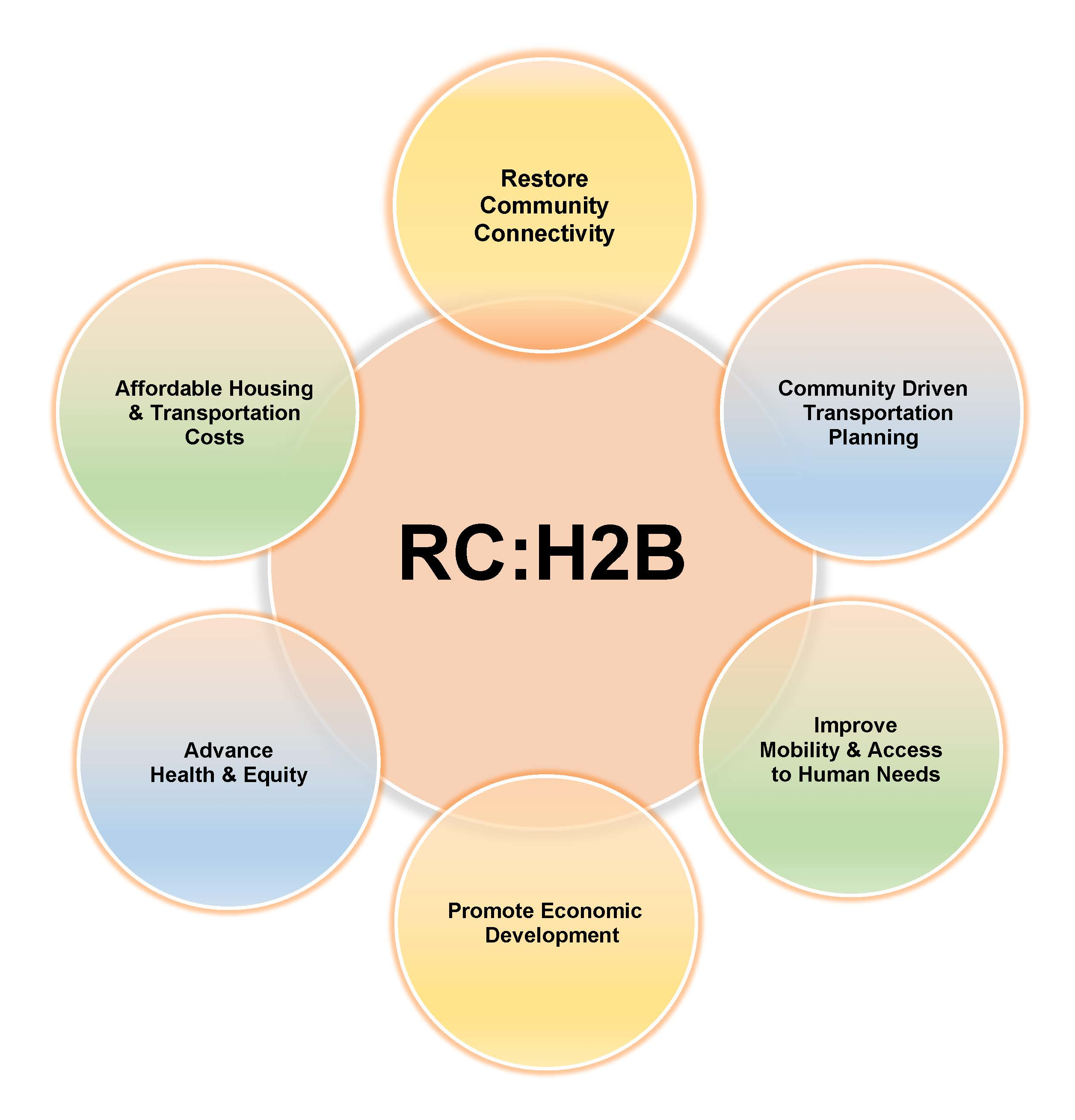 Caltrans hosted four stakeholder workshops focused on soliciting input from the local agencies and stakeholders to participate in the development of the RC:H2B Program Guidelines.
Workshop #1 and #2 have been removed as they reflect old and outdated program information. Please see Workshops #3 and #4 for the current and updated program information.
Program Guidelines Workshop #3 (held on 3/7/2023)
Program Guidelines Workshop #4 (held on 5/9/2023)
Check back here for continual workshop information and/or join the RC:H2B Mailing List to receive timely updates and notifications. Sign up for the RC:H2B Mailing List.
Application forms will be available Late Spring/Early Summer 2023.
RC:H2B Program Milestones
The following is the projected timeline for the RC:H2B Program
| Draft Milestone Schedule | Date & Time |
| --- | --- |
| Program Guidelines Workshop #1 | November 28, 2022, from 1:00pm to 2:30pm |
| Program Guidelines Workshop #2 | December 19, 2022, from 1:30pm to 3:00pm |
| Program Guidelines Workshop #3 | March 7, 2023, from 9:30am to 11:00am |
| Program Guidelines Workshop #4 | May 9, 2023, from 1:00pm to 2:30pm |
| Call for Communities Application | Late May/Early June 2023 |
| Application Workshops | Summer 2023 |
| Application Deadline | Late Summer/Early Fall 2023 |
| Award Notification | Late 2023/Early 2024 |
Stay Informed
Sign up for the Reconnecting Communities: Highways to Boulevards Mailing List
For more information, please contact: CRCP@dot.ca.gov
Additional Information