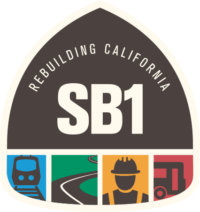 Contact: Garin Casaleggio
Phone: (916) 445-3545
Twitter: @CA_Trans_Agency
Sacramento — California State Transportation Agency Secretary David S. Kim today issued this statement following his remarks at the California Transportation Commission meeting in Modesto on state efforts to align climate goals with transportation spending:
"While it has been the subject of discussion in transportation circles, we need to set the record straight on the Governor's September 20 executive order on climate change.
"The Governor ordered agencies to update their approach to spending up to $5 billion of discretionary transportation funding – out of a total of $17 billion in annual transportation funding – to advance the State's progress on combating climate change. If we are going to be serious about preparing for climate change, we have to start planning now, considering the long lead-time for transportation projects. That said, some facts bear repeating.
"First, an executive order does not supersede existing state law. Gas taxes, including SB 1 funds, are protected under Article 19 of the constitution, and we will honor the will of the voters, and this is unchanged by the executive order.
"Second, the state will continue the "fix it first" approach outlined in SB 1. Maintaining the condition of our highways, roads and bridges is of the utmost importance to the Governor and this approach will continue.
"Having said that, we are legally required to meet climate goals through AB 32 and SB 32. The transportation sector contributes more than 40 percent of greenhouse gas emissions in the state. Therefore, we must take the necessary steps to reduce the share of greenhouse gas emissions that come from the transportation sector.
"Not only are we mandated and obligated to reduce greenhouse gas emissions, it is simply the right thing to do. This is why we need to rethink how transportation planning and investments are executed and what the desired outcomes ought to be. The Governor's Executive Order is just the beginning of that conversation, not the end.
"We're going to approach this in a way that makes sense from the standpoint of the economy, jobs and income inequality.Investing in transportation infrastructure and meeting climate goals are not mutually exclusive. That means directing available resources to projects that make the most progress toward our climate goals but not at the expense of safety, repairs and mobility relief.
"To accomplish this together, the California State Transportation Agency will develop an implementation plan for the Governor's executive order with the input and collaboration from transportation sector stakeholders, partners and the public."