District: District-5 - San Luis Obispo / Santa Barbara
Contact: Colin Jones
Phone: (805) 549-3189
Contact: Tamie McGowen
Phone: (916) 657-5060
SACRAMENTO — Caltrans is asking the public to vote for the Pfeiffer Canyon Bridge project in Big Sur, one of 12 projects competing nationally for the Socrata People's Choice Award for the nation's best transportation project.
"This is exciting! We're very proud of this project. The Big Sur community was cut off. We needed to make sure that the bridge was replaced as soon as possible — and we did."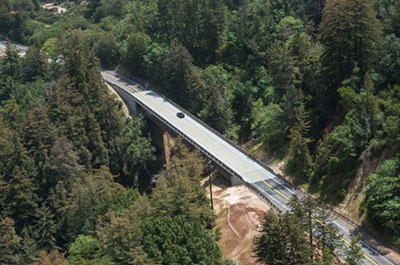 The national competition is sponsored by the American Association of State Highway and Transportation Officials, Socrata, AAA, and the U.S. Chamber of Commerce. Public voting is the final phase of the 11th annual
America's Transportation Awards
competition. The 12 competing projects were winners in four regional competitions. The three highest-scoring projects in each regional contest became the competition's Top 12 and now compete for the national Grand Prize and the Socrata People's Choice Award, both of which come with a $10,000 check for a charity or a transportation-related scholarship of the winners' choosing.
Caltrans has selected the California Transportation Foundation (CTF) to receive the prize money if the Pfeiffer Bridge replacement project wins. CTF is the leading charitable transportation organization in the state and supports California's transportation community in many ways, including scholarships for students pursuing transportation careers and financial assistance to workers injured on the job and to the families of transportation workers who were killed on the job.
"CTF has been a great support to people working in, and students pursuing careers in, the transportation field. CTF has helped so many of our workers and their families, and we would be honored to present them with a $10,000 check so they can continue their great work."
Watch Caltrans News Flash #152 to learn more about the Pfeiffer Canyon Bridge replacement.
You can vote for the Pfeiffer Canyon Bridge Replacement at: https://transportationawards.secure-platform.com/a/gallery/rounds/10/details/1580
Anyone can vote on any number of projects, once per day. You can vote again for the same project(s) after 24 hours. Voting will close September 22 at 11:59 p.m. eastern time.
Online votes will be weighted to each state's population, allowing for greater competition between states with larger and smaller populations. Winners will be announced September 23.