Bishop Pavement Project
Bishop Pavement Project

Project Information
The proposed Bishop Pavement Project will rehabilitate the pavement of U.S. 395 and State Route 168 W (West Line Street) in Bishop and upgrade chosen facilities to comply with the Americans with Disabilities Act of 1990. Details of the project include:
Construct a multiuse path.
Upgrade drainage and replace sidewalk facilities.
Relocate traffic signal poles.
Upgrade and construct pedestrian facilities.
Replace Transportation Management Systems (TMS) count stations.
Project Map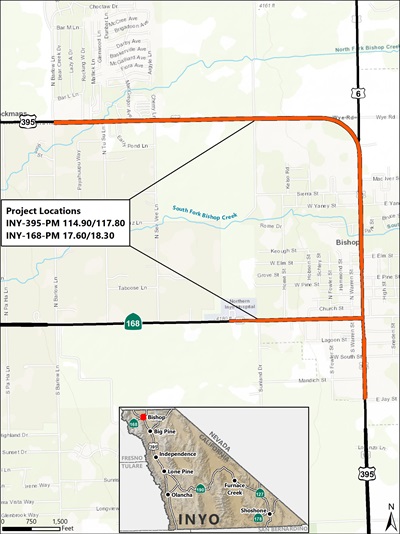 Environmental Document
The final environment document for the Bishop Pavement Project is now available for public review upon request.
To obtain a copy of the final environmental document:
Request by Mail: Caltrans District 9, c/o Jill Tognazzini, 500 S. Main Street, Bishop, CA, 93514
Request by Email
Project Cost
The total cost of the Bishop Pavement Project is approximately $25 million.
$2.4 million is funded by Senate Bill 1.
$18.4 million comes from federal funds.
$4.1 million comes from state funds.
Project Timeline
Project Schedule (Subject to change):
July 13, 2021: Virtual Public Meeting
August 2021: Project Approval and Environmental Document
June 2023: Design Complete
November 2023: Advertise Project
March 2024: Begin Construction
December 2024: Complete Construction
For More Information
Title VI
For Title VI information, click here: Caltrans Title VI.